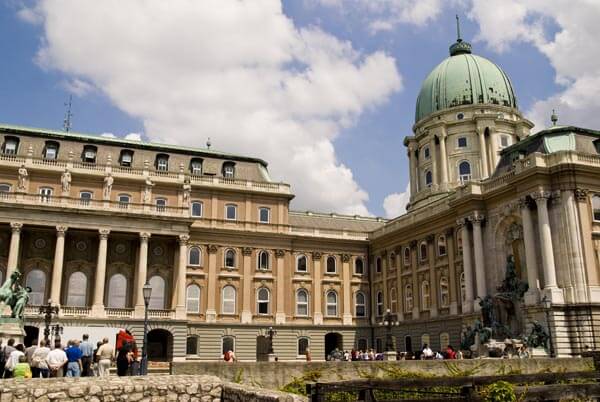 The Budapest Royal Palace, also known as the Royal Castle or Buda Castle dominates the city skyline, particularly when its 304 metre facade is lit at night, from its vantage point on Buda hill in the Castle District above the Danube river. The palace and its fortification system were built in the 13th century after the Mongol invasion. Since then a hodge-podge of styles constitute the modern palace including Renaissance structures that were built on the medieval foundations (later destroyed by Turks). Later renovanions in the Baroque style were also destroyed and the enlarged palace was completed in the neo-Baroque style in the 19th century.
Today when you visit the palace you can see 200 metre long Baroque style rooms including the elegant Ballroom, St Sigismund chapel, Palatinal crypt and Habsburg room. A museum is also located in the southern wing of the palace which presents the history of Budapest over four floors, ranging from medieval beginnings to the Communist era.
Advertisements:



You can also visit the Hungarian National Gallery covering artworks from ancient cultures through to renaissance and baroque art. The Contemporary Art museum covers modern art and is the only such museum in the country.
In addition, the National Szechenyi Library is located in the palace which was founded in 1802 by Count Ferenc Szechenyi who traveled the world buying Hungarian books which he later donated to the nation. Today it operates as a national depository for written and printed historical Hungarian works. You can reach the Royal Palace by cable car from Clark Adam Street at the Buda end of the Chain Bridge which stops right at the castle.
Buda Castle location and hours
Buda Castle
Buda Castle District
Budapest
Operating hours: 7.30-22.00 every day.
Photo by keepwaddling1 on flickr
You should follow me on twitter here.