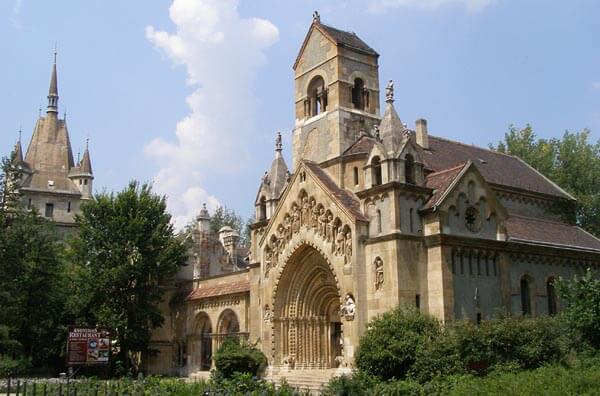 The Buda Castle District in Budapest, Hungary is on the northern boundary of Castle Hill on which the historic Buda Castle is located. This castle and its palace compound dates back to the Fourteenth Century, having been built initially by the royal Capetian House of Anjou which became extinct in 1435. Now a World Heritage Site, the castle district is an area of great charm and winding streets lined with medieval and baroque structures. The hill affords a magnificent view of the area and the Pest side of the Danube River. Visitors can travel up the hill by taking a one hundred meter ride up the hill on a funicular from Clark Adam Square or walk the steps leading from the square to the top of the hill.
There is also a Castle bus that leaves frequently from Moszkva Square. Many of the buildings in the Castle District were damaged during World War II but the architecture and streets have been restored and reconstructed. The district is still home to many residents and, although automobiles are not allowed there, they have permission to drive there, along with taxis and hotel occupants.
Advertisements:



The Vienna Gate, one of the original town gates, still exists and the Vienna Gate Square is surrounded with homes of great charm and antiquity, along with the National Archives Building and a Lutheran Church. Kapisztrán Square contains a Fifteenth Century tower, the Maria Magdelana Tower, which was originally part of the only Christian church in the area and behind which now is the Military Museum.
Holy Trinity Square is the center of the Castle District, with Matthias Church as its landmark. This Gothic-looking church was built around the original church's Thirteenth Century remains and its vaulted ceilings and stained glass windows contribute to its mystical atmosphere. Beneath the Buda Castle Hill, visitors can explore part of the labyrinth of tunnels and caves which on Boxing Day are lit by a thousand candles.
The baroque-looking Royal Palace houses several museums of Hungarian art and history and the best view from the hill is from one of the seven turrets at the Fishermen's Bastion. This structure was built in 1905 on the site of what was an ancient fish market. There are coffee houses, cafes and restaurants in the district where visitors can stop and rest and enjoy Hungarian cuisine, ice cream or strudel, including one housed in a four hundred year old Gothic building. The castle district is ideal for strolling and sightseeing along its historic crooked streets and narrow alleyways.
Photo by magro_kr on flickr
You should follow me on twitter here.