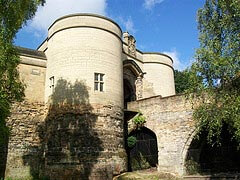 Nottingham Castle is located on the impressive outcropping known as Castle Rock with its 130' high cliff walls. This alone would make it a worthy outing destination but when you combine it with the castle's long and impressive history it becomes a must see.
It first came into being as a wood motte-and-baily structure built in 1067 after the Battle of Hastings by order of William the Conqueror. Henry II had the wood structure replaced with a more defendable stone complex. The castle was located in a strategic position and for centuries served as an important stronghold and was pivotal in many of England's great historic events.
The castle has had many incarnations over the centuries, from fort, to royal residence, parliamentary building, staging ground for a coup and even home to the Sheriff of Nottingham near the Sherwood Forest as per the legends of Robin Hood. Later a mansion was built that housed the Duke Henry Cavendish. At the bottom of Castle Rock is the Ye Olde Trip to Jerusalem, the oldest pub in Britain. The mansion now serves as the museum and art gallery for not only the castle but the City of Nottingham and surrounding areas. Nottingham Castle was pivotal on many occasions to the history of England and remains relevant even today. Take a walk through its stone corridors and be transported back in time.
Nottingham Castle address and hours
Nottingham Castle is located on top of Castle Rock, the nearest main roads are Castle Boulevard and Maid Marian Way.
Advertisements:



October - February: Open Tuesday - Sunday* 10am - 4pm (last admission 3.30pm).
March - September: Open Tuesday - Sunday 10am - 5pm (last admission 4.30pm).
Please note: The Castle is closed Mondays.
Photo by PeterXIII on flickr
You should follow me on twitter here.