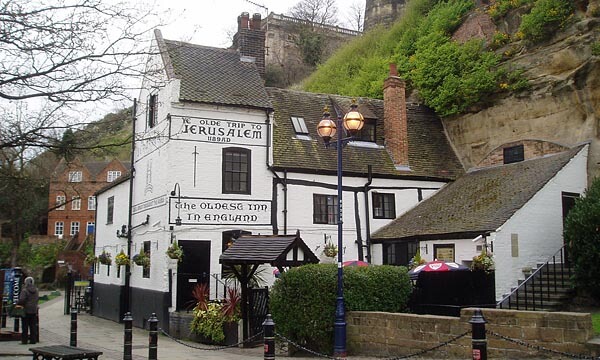 Ye Olde Trip to Jerusalem in Nottingham claims to be the oldest drinking spot in England and one of 20 public houses in Nottingham. It is located at the foot of Castle Rock in Nottingham's city center. To the locals it is simply known as "The Trip". A sign on the building states the pub was started in 1189AD. Since there are no public record from that time it is hard to verify the date, but the main building is about 300 years old.
The pub rests against a castle which is built of soft sandstone rock. The pub is famous for the caves carved out of the sandstone. The "ground level" caves are now part of the pubs drinking rooms. There are several caves below the building that were once a brewery.
Advertisements:



Local legend says the pub takes it's name from the 12th century Crusades to the Holy Land. The legend also states that knights who answered the call of Richard I would stop at the pub for "a pint" for their trip. The word "trip" in the name does not mean a journey it means a stop during the journey. Other people believe that it gets it's name from the Philadelphians, a religious group who would meet in the Brewhouse Yard.
Over one of the bars is a model ship said to be a cursed galleon and at one time one of the owners refused to dust it because who cleaned it would met a "mysterious death". Today this model is enclosed in glass. Before the model was sealed in glass, large pieces of accumulated dust would sometimes fall into a patrons drink and depending how much they had consumed they may or may not have even notice. There is also an antique chair at the Trip. Legend has it that a woman who sits in the chair will increase her chances of becoming pregnant.
Ye Olde Trip to Jerusalem address and hours
Ye Olde Trip to Jerusalem
Brewhouse Yard
Nottingham England
NG1 6AD
Phone: +44 115 947
Sunday – Thursday 11am to 11pm,
Friday & Saturday 11am to midnight,
Food served: 11am to 10pm daily.
Photo by AlexTurgid on flickr
You should follow me on twitter here.