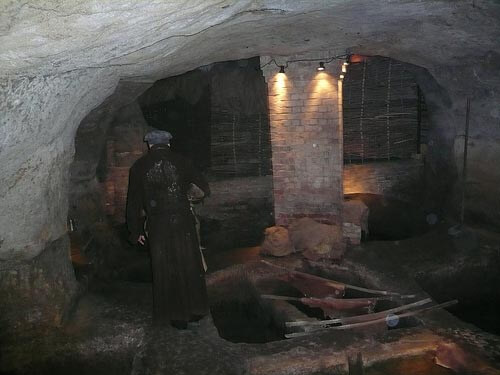 Nottingham is shrouded in legend and mystery but none as mysterious and awesome as what is located beneath the city. Below the city is a labyrinth of caves that is known to have more man-made caves than anywhere in England. They were carved out of the soft sandstone that Nottingham was built on. The people of the area lived and worked in these caves for over 1,000 years.
The first reference to this area was in 893 A.D. by the Bishop of Sherborne Asser. He called the place Toggio Cobauc, meaning Place of Caves. Over the centuries, it has had many uses. It was a medieval tannery with two caves cut into the cliff face and opening out into light. It also opened to the River Leen which, at the time, was the city's water supply. The original pillar was cut in 1250. It is the only known underground tannery in Britain. It also housed the Drury Hill Slums. This lies beneath a once-wealthy neighborhood. Families shared one room for eating, sleeping, and living. The lack of ventilation and sanitation made is the worst slum in England.
During World War II, the caves provided air raid shelter and was particularly handy during the raid on May 8, 1941. Today, archeologists are still uncovering the history of the place and tourists can visit this historical site. You can even make a wish at the ancient druid fountain. Run by the Galleries of Justice since 1974, tours are provided to the public.
City of Caves location and hours
Conveniently located on the upper mall of Broadmarsh Shopping Centre.

Close to both Broadmarsh and Fletcher Gate car parks.

5 minutes from Nottingham Train Station
2 minutes from Lace Market tram stop
5 minutes from the Galleries of Justice
Audio Tours
Mon - Fri 10.30am to 5 pm. Last admission 4pm
Excludes school and bank holidays.

Performance tours
Sat / Sun 10.30am to 5 pm. Last admission 4pm.
Available throughout all school and bank holidays
Advertisements:



Admission Prices:
Adults £5.95
Children £4.50
Concessions £4.50
Family £16.50
Photo by gruntzooki on flickr
You should follow me on twitter here.