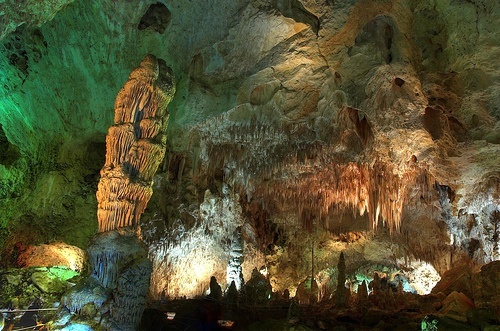 The Carlsbad Caverns, located in the Guadalupe Mountains of New Mexico, have long been a captivating natural feature of the Southwestern United States. Ever since the early days of their discovery by explorer and National Park Ranger Jim White they have been an amazing and enthralling place for many visitors. The caves themselves are an underground world so large and complex in their depth and breadth that in the days of Jim White there were many that refused to believe in their existence. Yet an inscription was discovered in the caves in the 1980s that read 'J White 1898', meaning that the young explorer had discovered the caves at only 16.
In the decades, and now century, that have followed their discovery many have visited, following the awestruck interest of Jim White. Seeing such sites as the Big Room, the world's second largest cave, a limestone cavern almost a mile long, 625 feet high, and 325 feet wide. Imagine a room almost a mile long, all underground, such an awe inspiring sight is what kept Jim White coming back, and what keeps several hundred thousand visitors coming here every year.
Following is a list of some of the more spectacular features of the Carlsbad Caverns that are not to be missed:
The Bell Cord Room: A room named for the long narrow stalactite that Jim White felt looked like the Bell Cord in a steeple, that descends right through a hold in the ceiling.
The Green Lake Room: This room contains a deep pool in its corner that was used as a testing site in the 1940s for determining whether or not the Caverns would be a good place to use for a fallout shelter.
The Guadalupe Room: Discovered in 1966, this is the second largest cavern at Carlsbad, and has an impressive collection of thin stalactites known as 'soda straws'.
Hall of the White Giant: This room is dominated by an immense white stalagmite.
Lake of the Clouds: The lowest known portion of the cavern complex, this room contains a lake that has rock formations that look distinctly like cloud formations.
The Mystery Room: This room is named for the fact that a strange noise can be heard here that isn't heard anywhere else in the caverns, and has yet to be explained.
Advertisements:



As you can see from the above list there is a lot to see in the natural wonder known as Carlsbad Caverns. Make no mistake though, this is not an exhaustive list, there are more things, beautiful, awe-inspiring natural formations that often boggle the mind. What you will find at Carlsbad Caverns and the rest of Carlsbad Caverns National Park is a sense of how amazing nature is at creating things, and you won't be disappointed when you leave except for the fact that you didn't see everything!
Photo by SamuraiCatJB on flickr
You should follow me on twitter here.