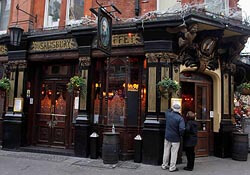 Each year round the middle of October, where-to-imbibe experts, Fancyapint.com, get together to celebrate the anniversary of their site by presenting awards to the best pubs visited over the past year. The awards are broken down into two categories: the reviewers' awards and the visitors' awards, with overall winners in each.
The reviewers' awards are decided by the Fancyapint.com review team, based on the pubs they reviewed during the previous twelve months. There are also a number of special awards made by FAP reviewers, for the pubs they feel have performed particularly well in the categories of best newcomer, best refurbishment and most improved. And this year, to mark the fifth anniversary of Fancyapint.com, the reviewers are awarding their top London pub of the last five years.
Visitors' awards are based upon the site's listed pubs, they've got over 3000 in their database, that have had the most visits arranged to them through the site.
Reviewers' awards
Overall winner
Princess of Wales, Primrose Hill (22 Chalcot Road, NW1 8LL, 020 7722 0354)
The Princess of Wales is a relaxed and affable pub - the perfect antidote to the stresses and strains of 21st Century living.
Winners
Vauxhall Griffin, Vauxhall (8 Wyvil Road, SW8 2TH, 020 7622 0222)
A pub that successfully appeals to everyone - not an easy thing to do.
King Edward VII, Stratford (47 Broadway, E15 4BQ, 020 8534 2313)
King Eddie's can be described as a modern pub in an old, old building that demonstrates traditional pub values such as great beer, good food and good service are never out of fashion.
Windsor Castle, Marylebone (27-29 Crawford Place, W1H 4LQ, 020 7723 4371)
The Windsor Castle is possibly one of the most idiosyncratic pubs you're likely to come across. It's also one of the friendliest - it's always a pleasure to visit.
Sir Richard Steele, Primrose Hill (97 Haverstock Hill, NW3 4RL, 020 7483 1261)
The Sir Richard Steele is a relaxed pub, chock full of character, where you can enjoy good beer with a varied crowd.
Best renovation
The Princess Louise, Holborn (208-209 High Holborn, WC1V 7BW, 020 7405 8816)
The Princess Louise was already famous for its magnificent interior and the recent renovation has seemingly achieved the impossible and made it even more appealing. This pubs has to be on every pub-fan's London itinerary.
Most improved
North Nineteen, Archway (194-196 Sussex Way, N19 4HZ, 020 7281 2786)
North Nineteen shows that by providing quality food and drink along with unfailingly friendly service you can create a strong community local.
Duchess, Vauxhall (101 Battersea Park Road, SW8 4DS, 020 7627 4711)
By putting back all the elements that make a great all-round pub, the Duchess has managed to turn around a tired old boozer and entice a mixed crowd of locals.
Best newcomer
Carpenters Arms, Bethnal Green (73 Cheshire Street, E2 6EG, 020 7739 6342)
The Carpenters Arms is a delight, when the old pub closed, we were expecting apartments to go up in its place, but instead we got another pub. And what a pub - great beer and wine, tasteful decor and excellent service. It proves if you get the basics right, you can have a great pub from day one.
Reviewer's special award – Best London pub over the last 5 years
The Grapes, Limehouse (76 Narrow Street, E14 8BP, 020 7987 4396)
We've known and loved the Grapes for a few decades and, whilst the docks declined and Docklands emerged from the rubble, whilst properties and business roundabout boomed and busted, this pub has quietly and steadfastly maintained the values that make the British pub great. Long may it last.
Visitors' awards
Overall winner
Lamb, Holborn (94 Lamb's Conduit Street, WC1N 3LZ, 020 7405 0713)
For those in the know, it's no surprise that the Lamb regularly receives acclaim – it's a pub that gets everything just right.
Winners
Water Poet, Spitalfields (9-11 Folgate Street, E1 6BX, 020 7426 0495)
Perched 'twixt the City and trendy Shoreditch, the Water Poet appeals to everyone.
King's Arms, Waterloo (25 Roupell Street, SE1 8TB, 020 7207 0784)
For the third year in a row the King's Arms has won a Visitors' Award. The location, ambience and quality of service add up to a pub Fancyapint.com users just can't get enough of.
Prince Regent, Marylebone (71 Marylebone High Street, W1U 5JN, 020 7467 3811)
Informal, relaxed and funky - one of the first pubs to demonstrate that a traditional boozer doesn't have to look old-fashioned.
Advertisements:



Counting House, Bank (50 Cornhill, EC3V 3PD, 020 8567 1416)
A magnificent banking hall sympathetically converted into a great pub – a splendid place to meet for a social occasion.
You should follow me on twitter here.