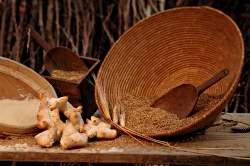 Living as an expat and travelling often to far-flung destinations made me want to go local in my own hometown. And so I did.
Near Oristano, one of the main cities in central Sardinia, lies a picturesque fishing village, Cabras, renowned for the excellence of its wine tradition and fish-based food. The treasure of Cabras is its wide pond, plentiful of fish coming from the nearby waters of the Oristano Gulf.
All along the coasts, it's still possible to see the ancient fishermen's houses, boats and working areas. Here, on the road from Oristano, I've experienced my first "resto-market", a middle way between a restaurant and a market.
I've been preaching about going local for years, and now I'm extremely happy to see that Sardinia is getting there. It was about time, I would say. In fact, the island has a great culinary tradition, but too often small local producers struggle to make their ends meet due to the competition of bigger stores that offer lower prices (sometimes) and lower quality (most of the times).
This is the aim of the aptly named Sa Corbula: "We want to keep it local, we only serve food produced in neighbouring villages, from groceries to meat to fresh pasta," told me Maria Elisabetta Casu, one of the owners. In Sardinia's native language, corbula is the ancient basket used for transporting food, and now it's considered the symbol of the island.
At the entrance, customers are faced with a store selling local products. You can't be mistaken, everything looks local, from the little pots containing in oil vegetables to the typical Sardinian bread, carasau, known in the mainland as "music paper"; from the renowned local cheeses pecorino, vaccino and caprino (respectively made with sheep, cow and goat milk), to the ever-present mirto, liqueur made from myrtle berries.
After a stroll in the store, we reached our table, set on the back of the big hall. The inside temperature is quite cool, which makes it necessary to have an extra sweater on wintertime, but the perfect escape from the merciless summer heat.
The menu in the resto-market is never lengthy: they only use seasonal products and serve according to what local farmers can produce. This is what guarantees a proper yesteryear meal.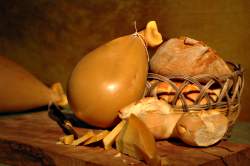 Our lunch started with a mixed antipasto: homemade salami, sausages and ham, vegetable omelette and local cheeses.
The first main course came with a choice of four types of homemade ravioli: stuffed with asparagus, beef, nettle or borage. The available sauces were butter and sage or ragù. We ordered a mix so we managed to taste them all, the best choice.
In real Italian style, we were then to choose the second main course, and the options were lamb with artichokes and saffron chicken. We took the first and it was great. Next time, I'm not sure I will find the chicken, as the menu keeps changing according to nature and farmers. The whole lunch was washed by local red wine.
The dessert involved the unmissable seadas, typical regional cake made of fine slightly sweet pasta and stuffed with cheese. Fried in abundant oil, it's served with sugar or honey on top. It's delicious, but a true caloric bomb, and after the lavish meal we gave up on it.
The location of Sa Corbula, between the popular beach of Torregrande, just beside Oristano, and Cabras, makes it the perfect tourist place to shop and eat, as it gathers the very best products of the island in a picturesque typical landscape.
Address & phone:
Strada Oristano - Torregrande
Zona Artigianale Cabras
Via dell'Industria
Phone: +39 0783 391593
Website: www.corbula.it
Email: info@corbula.it
This is a guest post from Angela Corrias of Travel Calling. Angela is an Italian journalist specializing in travel writing, and she's got a passion for politics, which lets her delve deeply into foreign societies.
Advertisements:



Photos courtesy of 'Corbula'
You should follow me on twitter here.