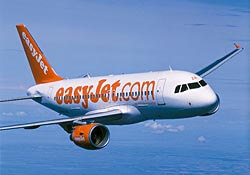 easyJet is launching 10 new routes in 2010, 3 of which are from the UK to Malta, Helsinki, and Cagliari. This means easyJet now serves 449 routes via 121 airports and 28 countries.
The Cagliari, Sardinia, service launches daily from Stansted on 28 March 2010.
The Manchester–Helsinki four times a week service also starts on 28 March 2010.
The Liverpool–Malta service will launch on 13 June 2010, with two flights at week.
Advertisements:



The other new routes are from Paris to Helsinki, Catania, and Agadir; and from Milan to Casablanca, Agadir, Malta and Oporto.
You should follow me on twitter here.