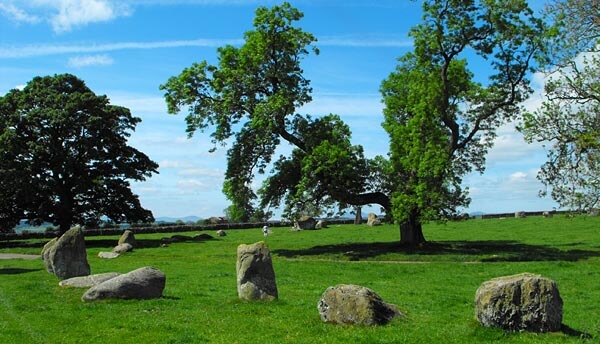 Long Meg and Her Daughters is a Bronze Age stone circle in the English town of Penrith in the county of Cumbria. It is also known as Maughanby Circle and is one of the largest stone circles in northern England. It is about 300 miles from London and 111 miles from Liverpool the home of the famous Beetles.
The circle has 51 stones, 27 of them are still upright. They are set in oval measuring 100 m in length or 328 feet. Meg herself is 11 feet tall and made of red sandstone and marked with megalithic art including a cup and ring.
Advertisements:



The circle is an impressive sight when flying over it with the lush green grass between the stones.
A visitor can fly into London and then hop on the West Coast Main Line fast train for a scenic ride to Penrith or be more adventurous and rent a car with the steering wheel on the wrong side for us Americans and drive on the wrong side of the road to the town. Fine hotels are available in town for the night as well as several Bed and Breakfast guest houses.
While viewing the circle with a tour guide you will be told the legends of the area that surround the stones. One legend is that they were a coven of witches that were turned to stone by a Scottish Wizard, Michael Scot. It is said that the stones cannot be counted but if anyone can count them twice and come out with the same total the spell will be broken or it will bring bad luck. So will you be the visitor to break the spell or do you want to be responsible for bad luck?
Photo by Ambersky235 on flickr
You should follow me on twitter here.