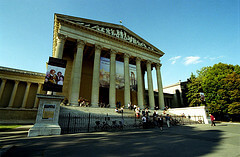 If you are currently planning a trip to Central Europe and you are an art fan, you can't miss the Museum of Fine Arts in Budapest, Hungary. The museum's entrance resembles the Greek Parthenon, with its 8 columns and pediment, and that's just the outside.
After climbing the stairs and entering the museum, you will have to make your first choice, as to where to start. Permanent Collections consist of Egyptian Art with almost 4,000 items, Classical Antiquities, Old Master Paintings, Sculptures, Prints and Drawings, Art after 1800, or the temporary exhibits which can be checked on the museum's official website.
The museum offers guided tours in nine different languages for a small fee. Another option is to rent an audio tour, which will guide you either through the Old Masters' Gallery Collection and Modern Collection or through the temporary exhibition "The Splendour of the Medici - Art and Life in Renaissance Florence" which is currently showing. (Check for other temporary exhibitions at later dates).
It's a must to see works by some of the most famous artists of all times like Raphael, Tintoretto, Van Dyck, El Greco, Velazquez and Goya. If you prefer prints and drawings, you can find interesting pieces by Leonardo da Vinci, Rembrandt, Delacroix, Manet, Cezanne, Van Gogh and Poussin.
Tips: Call the museum to find out whether there is a special event, if so, the ticket for the event also includes the visit to the permanent exhibition. Coats, umbrellas and bags must be left in the lower level cloakroom, which is free of charge. If you want to buy a gift, a book or a catalogue, there´s also a shop in the museum. All in all, a visit you cannot miss.
Address and hours
Advertisements:



Museum of Fine Arts, Budapest
Dózsa György út 41, 1146 Budapest
Pf. 463, H-1396 Budapest 62
Telephone: +36 1 469 7100
Open Tue thru Sun from 10am to 5.30pm
Photo by Res2000 on flickr
You should follow me on twitter here.