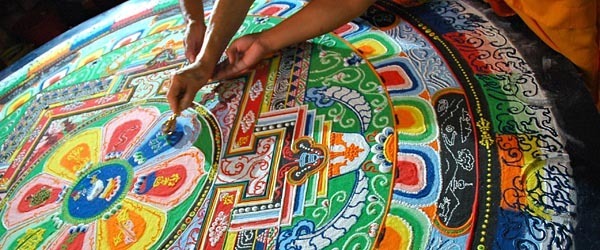 Nepal boasts the spectacular majesty of the Himalayas. In fact, only 20% of this small country is not mountainous. As far as Westerners are concerned, the country was shrouded in mystery until the 1950s because it was only then that it was opened to visitors. This country has recently become very popular with tourists and when you go there you will soon realize why. The scenery is awe inspiring. No visit to Nepal would be complete without going to Mount Everest. Of course, you will be able to see this from a distance but a closer visit will show you just how vast this mountain is. If you want to go mountaineering or simply to look at the dramatic outlines of peaks that remain topped with snow throughout the year, visiting this area will contribute to a holiday that you will never forget.
As well as the mountainous areas there are a diverse range of geographical features such as tropical jungles and rivers. You will be interested to see the rare one-horned rhino and a wealth of rare birds and butterflies. Allow plenty of time for your sightseeing trips, so that you will be able to look for these.
The people of Nepal are known for their friendliness and when you visit this country you will soon realize why. Many of them work as farmers and you will see them outside in their fields as you travel through the countryside. When you meet them their warmth and hospitality will contribute to a relaxed and enjoyable visit to this unique country.
Another place that is a must when you go to Nepal is Kathmandu. This is the biggest city in Nepal and is its capital. Here you will discover many historic buildings as the city's history dates back 2000 years. Narayanhiti Palace Museum is a must see on your visit. Originally a royal palace this is now a fascinating museum. See that you time your visit to see the fruit bats that leave the garden in large numbers during the evening. In this city you can also see Freak Street, made famous by Western hippies who went there a few decades ago. Also take time to visit Swayambhu, one of the most important Buddhist sites in Nepal. After you have taken time to dwell on its history and reflect on its spiritual importance, you can enjoy good views of the city and there are lots of monkeys to see too!
In all Nepal is a jewel of a country. Make sure you go there for long enough to really dwell on the sights. In any case, however long you were going to spend in this fascinating land you will always find that you want to be there for longer.
Photo by Wonderlane on flickr
Nepal travel articles
Stunning landscapes are the start, but the people, culture and activities will keep you busy during your Nepal visit.
Nepal is Asia's home to white water rafting and kayaking and boasts some of the best guides and instructors in the world. In fact if you came to Nepal in the off season, you would struggle to find a kayaking guide as the demand for their advanced skills takes them all over Asia.
Towns and cities in Nepal