Introduction to Kathmandu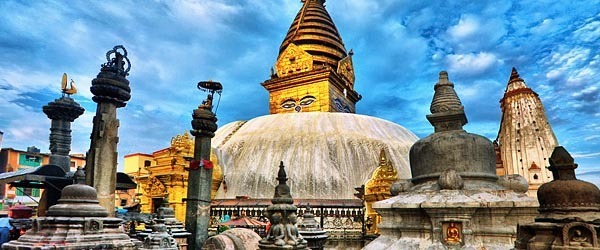 It is said that the valley of Kathmandu was once covered with a large lake. Then the Bodhisattva Manjushri used his sword to slice into the mountains and drain the lake. The valley used contain more temples and holy sites than residencies but that has changed as the population has grown.
Kathmandu, the capital of Nepal, is a wonderful starting point for a visit to the Himalayas and the jungles. In Kathmandu you can schedule all sorts of excursions to the rhino preserves, rafting and mountain trails. Kathmandu is an amazing mix of the political, commercial and cultural. If you decide to take in the latest action movie at the theater, don't be surprised if there are several Buddhist monks decked out in their saffron robes sitting front of you enjoying the movie.
Kathmandu, until recently, has been a region of conflict and it was inadvisable to visit there for any reason that wasn't necessary. There is still political strife, but as long as you stay out of demonstrations, check in with your consulate and allow for checkpoints in your travel plans you shouldn't have any troubles.
The best way to see the city is on foot or bike since the buses can get very crowded and time consuming. Another fine way to travel is by local driven bikes with carts attached called rickshaws. Thamel is the tourist district and that is where most of the hotels and places to stay are.
For those interested in Buddhism and Hinduism, the Swayambhu Stupa is one of the most holy sites in Nepal. It is also known as the monkey shrine due it's the many live monkeys. It is about a 20 to 30 minute walk from Thamel but the white dome and gold fixtures can be seen for miles around all of the valley. It is an important site for Buddhists: Mahayanan and Tibetan, and Hindus.
To get a real feel for the city, journey out of the Thamel district and get to know the local cuisine, drink some Chiya, similar to Chai, or do some meditating at one of the lesser known temples. For a more rewarding experience you might check out volunteering at a Nepalese orphanage, it is a great way to help out and get to know the culture of Nepal.
Photo by Dhilung Kirat on flickr