Nepal is Asia's home to white water rafting and kayaking and boasts some of the best guides and instructors in the world. In fact if you came to Nepal in the off season, you would struggle to find a kayaking guide as the demand for their advanced skills takes them all over Asia.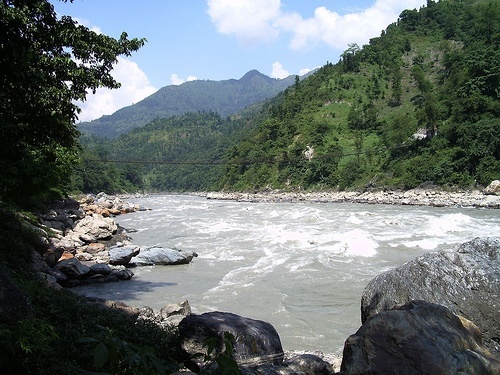 As an avid kayaker myself, I have become totally addicted to Nepal's whitewater and want to share some of my thoughts and ideas about ways to get more out of your kayaking experience.
Kayaking is not to for everyone. First and foremost learning to kayak has to be something that you want to do. You need to have good confidence in the water and a moderate level of fitness. Kayaking is psychically and mentally demanding. Before you come to Nepal to kayak, you should limber your body up with lots of stretching and flexibility exercises. The biggest part of controlling a kayak comes from your hips and upper thighs and you don't necessarily need a lot of upper body strength to be able to paddle.
If you are going to learn to kayak in Nepal it's essential that you find a reputable company with experienced guides and good safety equipment. Though it may sound like a small point, you should test your guides ability to communicate effectively in English as this is going to be your learning medium and if you have communication problems, or do not understand what's being asked of you, it can be a huge frustration, not to mention dangerous whilst on the river.
All companies that offer clinics in Nepal will supply you with kayaks, paddles, spray jackets, spray decks, life jackets, helmets and wetsuits in winter. Also they will supply camping and cooking gear, on and off river support and all the transport required for your trip.
For single woman or a group of women it is also possible to arrange all female guides and support crew. This is a new incentive in Nepal where disadvantaged or abused women have been taken in and taught how to Kayak, speak English and become river runners. In fact now some of the best river runners in Nepal are women. It's a great way to support a very worthy cause.
For the experienced Kayaker, there is a lot on offer in Nepal, from the wild rampaging Bhote Koshi in a day to longer 10 to 15 day expeditions in rivers like the Tamur, Sunkoshi and Karnali. Most companies in Nepal will arrange fully catered expeditions for you so you just have to go along and enjoy the paddle.
Have fun paddling in Nepal!
Jenny Lama
D'Tours Original - Original People, Original Tours
Advertisements:



For more information about Kayaking or Rafting in Nepal please visit my www.dtoursoriginal.com
You should follow me on twitter here.