One of the coolest things about travel is to trawl the street markets wherever you end up. Here's our collection of the best, and strangest, street markets in the world.
 
Bologna food markets, Italy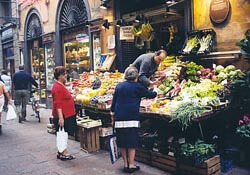 Bologna, Italy, has the best food in the world and you can buy all the ingredients to rustle up a feast at the markets in the medieval streets around Piazza Maggiore. There's a huge range available here and with such spoils it's no wonder Bologna is called "Bologna la Grassa", i.e. The Fat One. Click over to more Bologna food market information.
 
Chichicastenango Market, Guatemala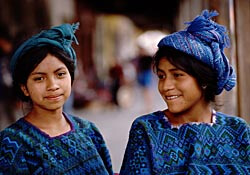 This Thursday and Sunday market in Guatemala carries crafts from the highlands, food stalls, and plenty of everyday items. Vivid, multi-hued hand woven blankets, embroidered cloth, and traditional clothing hang everywhere, making the market a textile lover's dream. Visit early in the morning, as the market, held in a cobblestoned square, gets very busy later in the day. However, if you're around when it's nearing closing time, prices are likely to go down and the traders wish to unload more products rather than cart it all back home. Chichicastenango is located about 140 km and 2-3 hours drive northwest of Guatemala City.
 
Dongtai Road Antique Market, Shanghai, China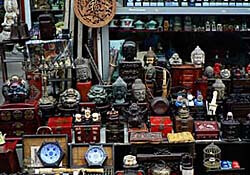 Street vendors line several streets on the outskirts of Shanghai's Old Town. Actual antiques are few and far between, what you'll mostly find here are replicas, or fakes, but you will find a wide range of vintage items, traditional crafts, curios, and assorted knick-knacks. Among the stalls with embroidered slippers for bound feet, chopsticks, lanterns, and furniture you will find Communist-era posters, calligraphy brushes, and copies of The Little Red Book in several languages. The market opens at 9 in the morning, and goes on until nightfall. Be prepared to bargain hard, as a foreigner you'll be assumed to have loads of cash and prices will be inflated until you talk them down.
 
Patpong night market, Bangkok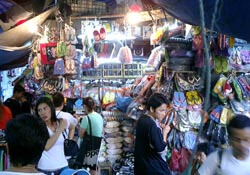 A sprawling market in Bangkok's Patpong district which takes place after dark, as it would be too hot during the day. Browse beneath the canopies for everything from posters for 50 cents to DVDs ($4) or shirts at $6. You can also find Thai 'versions' of designer brands like Louis Vuitton bags or Hermes scarves. Thailand tourist information.
 
Sarojini Nagar market, New Delhi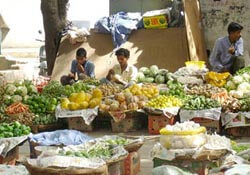 New Delhi's Sarojini Nagar market has been rebuilt after the 2005 bombings. Here you'll find everything from samosas for 20 cents to shoes at $6. It's one of Delhi's main markets, and you should come here if you want to rub shoulders with the locals rather than the tourists. Tourism Delhi.
 
Central Market, Phnom Penh, Cambodia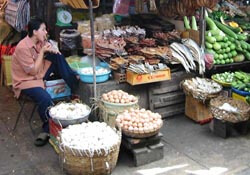 You can buy cut-price silverware inside this French colonial edifice, or head to the stalls on the street, where the air is fresher and flowers are sold alongside local snacks like roasted cockroaches. Yummy. Tourism Cambodia.
 
Durbar Square market, Kathmandu, Nepal
Advertisements: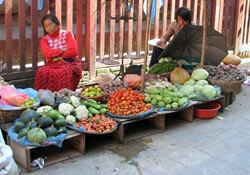 Most retailing in Kathmandu takes place in open air markets like this one. Here you can witness sights like endangered birds for sale, as well as local specialities like $4 pashminas or kukris like the Indian Gurkha solders use for $30. Nepal tourist information.
 
Pisac market, Cusco, Peru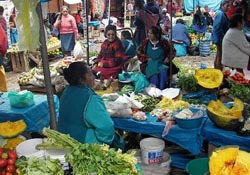 Every Sunday locals in this mountain village flog their wares to tourists and one another. Among the Inca ruins you can find ceramics and jewellery for just a few cents a piece. Cusco tourist information.
 
Sonoma Farmers' Market, California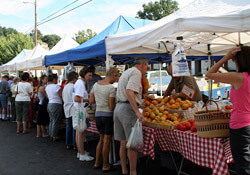 The picturesque country town of Sonoma, in Sonoma County, CA, hosts a farmers' market every Tuesday and Friday in the main square. Here you can pick up the ingredients for the perfect picnic for less than a tenner - Zinfandel wine, bread, cheese, olives, and plums! Sonoma Farmers Market.
 
Borough Market, London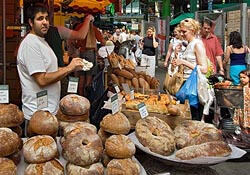 London's oldest food market is a haven for foodies. Delicacies from all over the British Isles and furthers are all available here, as are a number of very good eateries. A London tradition, brunch at Borough Market is a wonderful experience. Borough Market website.
 
Sonora Witchcraft market, Mexico City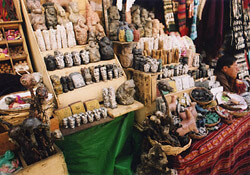 Mercado Sonora or the 'witches market' is definitely not to be missed. Mexicans flock here to buy herbal remedies, love potions, and talismans and other spiritual balms. There is also a trade in endangered animals and plants so police raids are a common occurrence here. Bear in mind that Mercado Senora is considered a somewhat sacred place and as these local markets do not cater to tourists, one should be respectful and extremely polite when taking photographs.
You should follow me on twitter here.