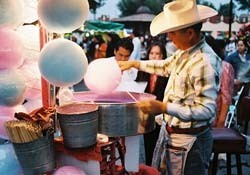 Coyoacan is a gorgeous leafy suburb of Mexico City. It is famous for its markets and, on a Saturday and Sunday, for great second hand bookshops and also ice cream (you should try mil flores flavor - a thousand flowers). The name Coyoacan means 'Place of Coyotes'.
In Coyoacan, there are quite a few things to do while spending a half day:
Visit Frida Kahlo's house on Calle Londres. Coyoacan inspired Frida Kahlo and you can visit her famous blue house, Casa Azul, that is now an intriguing museum with her paintings and belongings.
Mercado Coyoacan is a covered market just up the street from the main square. Filled with food sellers, knick-knacks etc. It also has the most fantastic 'tacos platos' stands. They're both right next to each other and you should eat your fill here.
After filling up on tacos, go to the original El Jarocho café for Mexico City's best coffee. They serve a stunning espresso, though like everyone else, they use UHT milk for their cappuccinos.
Advertisements:



Saturdays and Sundays are best. Easily reached by the metro or by bus.
View travel photos from Mexico
You should follow me on twitter here.