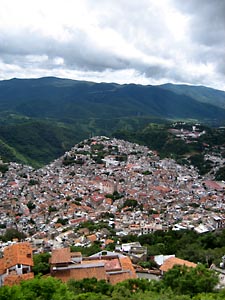 Taxco, or Taxco de Alarcón to give its full name, is an antique colonial silver-mining center located in northern Guerrero. Made a national monument in 1928, Taxco has been a tourist destination since, with trademark white houses with terracotta roofs.
As the town is desperately clinging to the side of a mountain, all the streets are near-vertical as well as cobblestoned. Bring a good pair of shoes as you'll be walking uphill a lot. That, combined with the altitude of 5,800 feet (or 1,800m), could result in any visitor feeling quite worn out.
Thankfully there are a few places to rest your feet and sights to take in.
See and do
Everyone comes to Taxco to buy silver, jewellery and otherwise. While most of the shops have all the same stuff, have some patience and walk around to find more creative pieces. In my experience, the best items are in the most expensive stores, although try some of the more modest ones and have a good hard look around. Cafe Sasha can also sell you a few choice items.
If you can, try to arrange a visit to a silversmith's workshop and see how those pieces you've bought were made.
The more than 200 years old baroque-style church Templo de Santa Prisca is on Plaza Borda (the town's zocalo) and its detailed pink stonework is known world-wide. The interior decoration here is magnificent. The other main church in Taxco is the Iglesia de San Sebastian.
At the very top of Taxco, you can find the Christ statue overlooking the valley. A taxi ride up here is worth it and you can ask the driver to wait for you. Great photos of the entire valley.
Eat and drink
Cheap and good lunch can be had at restaurant Buena Vista, on a side street just by the cathedral.
For a bite to eat and good company and drinks, head to Cafe Sasha as the night draws in. I can especially recommend the shots of Mezcal. Watch out for the hangover!
Getting there
Taxco is located about 200km southwest of Mexico City along, and it takes approximately two hours to drive or by bus from Mexico City's Taxquena bus terminal along Highway 95D. From Acapulco, it's a four hour drive.
Bus lines Sistema Estrella Blanca and Estrella de Oro both have frequent service to Taxco at about every hour. The cost is about USD 10 (Sept 2006).
More information
A good guide to Taxco is available at Mexperience.
Advertisements:



View travel photos from Mexico
You should follow me on twitter here.