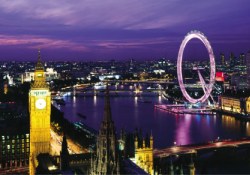 Eyeflare's guide to 10 brilliant things to do in London that don't cost a penny. In a city where money most often flows very freely, these are some truly free activites for the London traveler. Enjoy your low-budget trip to London.
1 - Competing steel drums
Listen to the best steel drummers compete, a week before Notting Hill Carnival to decide who will enter the carnival as the coveted National Champions of Steel. Every year, on the weekend before Notting Hill Carnival, an enthusiastic crowd converge on Horniman's Pleasance Park in west London, to watch London's best kept secret - Panorama.
It has been a precursor to the festivities for 27 years, with the cream of the UK talent battling it out. Incredible steel drumming is the highlight of the carnival for many.
Notting Hill Carnival August 24-25.
Panorama, Horniman's Pleasance Park, Kensal Road, W10
2 - South Bank events
Every year from June to September, the Coin Street Community Builders host a festival of events near the OXO Tower on the South Bank's riverside walkway that aims to introduce new audiences to various arts and cultural events with a mixture of music, food, sport and activities. Events include Celebrating Sanctuary on 17 June, a day featuring live performances from artists, dancers, musicians and poets who are all members of London's refugee community and held to coincide with Refugee Week.
South Bank, SE1 (southbanklondon.com).
For a list of events, see coinstreet.org.
3 - View a testing trial
Fulfill your Rumpold of the Bailey fantasies with a visit to a trial. Most Old Bailey trials are open to the public (the public can't attend trials where the witness is protected or the public gallery is full) and you can also admire the beautiful architecture of the building from a considerably better vantage point than the dock.
Advertisements:



Central Criminal Court, Old Bailey, EC4
4 - Free comedy shows
Frank Skinner, Al Murray, Steve Coogan; all have performed at the Edinburgh Festival. Comic Peter Buckley Hill is inviting a range of comics hoping to reach similarly dizzying heights to preview material for their upcoming shows at the Fringe. Belly laughs should be in abundance, as well as opportunities to try and spot the Next Big Thing from those on stage.
See timeout.com/london comedy for details and venues.
5 - Knit and chat
Now that smoking while drinking is out, some ingenious folks have come up with a novel way to occupy themselves at the pub; knitting. The I Knit club meets every Wednesday and Thursday night at 6pm, alternating between their venue at the IKL shop in Vauxhall and a central London pub. Best of all, you don't even need to be good at knitting. All that's needed is enthusiasm and a ball of yarn.
I Knit Shop, 106 Lower Marsh, SE1
6 - Blessing of the horses
Watch a horse being blessed. Continuing a tradition started in 1968, when the stables in Hyde Park were threatened with closure, Horseman's Sunday sees the vicar of St John's Church (Hyde Park Crescent, W2) bless a cavalcade of 100 horses. It's quite a sight. The midday blessing takes place once a year on the penultimate Sunday in September. This year it will happen on 21 September.
Horseman's Sunday, Hyde Park
Website: stjohns-hydepark.com
7 - Visit the Victorian dead
Creeping through a 52-acre graveyard hardly sounds like the most cheerful of Saturday's, but Nunhead Cemetery is a charming surprise. Consecrated in 1840, it is one of the seven great Victorian cemeteries established in a ring around the outskirts of London.
As well as magnificent monuments erected in memory of the most eminent citizens of the day, it also boasts formal avenues of towering limes, butterflies, woodpeckers and jays. Volunteers can participate in practical conservation work carried out on the first Sunday of each month between 10am and 4.30pm and also with monumental inscription recording, conducted on the third Sunday of each month.
Nunhead Cemetery
Linden Grove SE15
Website: Friends of Nunhead Cemetery
8 - Record shop gigs
Turn up to one of the many in-store gigs hosted by Pure Groove records and Rough Trade East. Bands aiming for the big time (or at least to get on the arm of Kate Moss) are regularly invited to come and test their mettle in front of non-paying audiences, while the recent appearance of Radiohead in Rough Trade's Liverpool Street branch proves you never know who might be playing next.
6-7 West Smithfield, EC1
Old Truman Brewery, 91 Brick Lane, E1
Phone: 020 7392 7788
9 - Check out the stars
This June you can catch some of the hottest shows in town for free at West End Live 2008. Now in its fourth year, the two-day event includes acts from the likes of Avenue Q, Dirty Dancing, Grease The Musical, Chicago and The Sound of Music.
There will also be loads of activities to keep the kids happy, including a celebration of 50 years of Lego and interactive displays from London's museums and galleries. Leicester Square on Saturday 21and Sunday 22 June. Saturday 11am - 6pm, Sunday 12pm - 6pm.
10 - More free movies
Seeing a film in London is no longer a cheap night out, with tickets often costing about a tenner. But this summer you can get your movie fix for free (popcorn not included) at More London's free film festival at The Scoop, an outdoor sunken amphitheatre.
The programme ranges from old favourites like The Sound of Music to recent blockbusters like Antonement. No need to book – just turn up to get seats on a first come, first served basis. Screenings start at 9pm from June until early September, next to City Hall, Riverside, The Queen's Walk
See morelondon.com for full screening details.
You should follow me on twitter here.