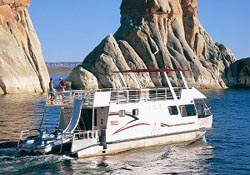 Sparkling, clear, blue water laps against towering, sheer, red-rock canyon walls and sandy beaches. Power boats and wave runners zip about while houseboats slowly wend their way deep into side canyons. This is Lake Powell, Arizona. It's the second largest man-made lake in the United States and the watery playground for Page, Arizona, and three million annual visitors.
Lake Powell is a massive 186 miles long and has 1,960 miles of shoreline. That's even more than the whole West Coast of the continental United States. There are 96 large and deep canyons to explore though you'll need a watercraft for the majority of them. That's because land-based access is limited due to the rocky nature of the area and a general lack of roads.
Advertisements:



A great number of people each year spend their vacation time on a rented houseboat. As you can see from the picture below, the appeal is clear. What's not so clear is that the cost of a rental is often quite significant, many time reaching or surpassing what it would cost to buy a timeshare in a houseboat. A share that would also give the buyer access to more time on the boat, and the gorgeous lake.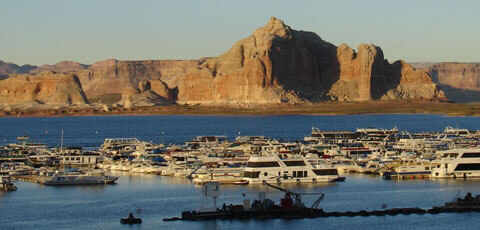 While staying in Lake Powelll houseboats, a visitor to the lake has easy access to many other water based activities. These include fishing, swimming, snorkeling, scuba diving, water skiing, hiking and sightseeing. For photographers, there are great vistas everywhere with red rocks, blue skies, and azure waters making for dramatic backdrops. For those that want to get closer to those blue Arizona skies, there are companies that provide scenic flights over the lake in a plane or helicopter. This gives visitors a bird's eye view of just how far those 96 canyons extend from the main lake.
If you're looking for your own timeshare houseboat, one local company with many years experience is Sunrise Peak. Around since 1989, they specialize in Lake Powell houseboat timeshares. Their boats are customized for the lake as well, with features such as multiple fridges, private staterooms, large fuel capacity including tanks for jetskis and other toys, and luxury interiors if that's what, ehm, floats your boat. Operating from Bullfrog and Antelope Point marinas, Sunrise Peak has the largest inventory of houseboats available in Lake Powell. Prices range from a budget friendly $9,500 to a wallet busting $99,995 for a huge and very luxurious houseboat timeshare.
You should follow me on twitter here.