Trekking through the high passes of Tibet, exploring wildlife in Ecuador's jungles, or canoeing down a river in Utah. Here are 4 very cool and eco-friendly vacation getaways.
Travel can be both exciting and low-impact with these innovative tour operators. The companies arranging these trips mostly offset any carbon emissions and give some of their profits to non-profits and conservation groups in the countries they operate. They all certainly do much more than recycle their cardboard. Any prices mentioned are for each person, with two sharing rooms.
Ladakh, India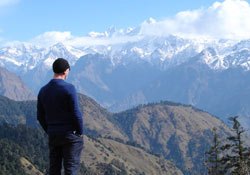 Trek over high passes, reflect on life in a peaceful monastery, and meet local shepherders on this 3-week journey in one of the most remote areas of the world. The harsly beautiful Tibetan highlands is where you'll go with KE Adventure's "Zanskar's Wild West" package to Ladakh in India. It's one of a range of adventures that they offer to India and Tibet. On this trip, you'll spend 12 days following an ancient trade route on foot, although it's not has exhausting as it may sound. Cost is $2,295 per person excluding flights.
Ladakh itself is traditional and still centers on old agricultural practices and small villages. Although at times you'll find a more modern water turbine or solar panel that are the result of improvement works by international aid groups.
San Juan River, Utah
Gravity will be your friend on this 6-day rafting excursion on Utah's San Juan River. You'll float by the dark red rock landscape near the nortern part of Monument Valley, and occasionally rocket down rapids. There are hikes up to ancient cliff homes as well to mix things up. Nights are spend under the stars on sandy banks along the river. All expedition outfitters in this region follow the U.S. Bureau of Land Management rules, including limits on the number of rafters the river at one time, but OARS stands out for its offsets program and contributions to conservation projects. Cost is $1,515 per person.
Ecuador
Advertisements:



The Amazon rainforest is where you'll spend 16 days and nights with GAP Adventures's "Inland & Amazon tour." It includes staying with a Quichua tribe family, horseback riding through jungle stretching across Andes Mountains foothills, and canoeing down the Napo River (which is an Amazon river tributary). Most visitors to Ecuador head straight for the Galapagos Islands, meaning you'll have plenty of rich rainforest mostly to yourself. Go now, before the government's program to increase community-based tourism with the Amazon tribes pays off in increased visitor numbers. This tour costs $795 per person excluding flights.
New Zealand
New Zealand's South Island is a picture of unspoiled landscapes. Here you find charming towns and farm, misty mountains that drop straight to the sea, and glacial lakes where you can take a boat out. On Adventure South's "Milford Wilderness" bike tour you'll spend 10 days cycling from Christchurch to Milford Sound and returning to Queenstown. You'll be cycling for about 6 hours each day, but you'll also spend a full day in Queenstown chasing adrenaline highs with jetboating and bungee jumping. On the way, there are also hikes into the beautiful landscapes of New Zealand. Expect to spend $2,792 per person, excluding flights.
You should follow me on twitter here.