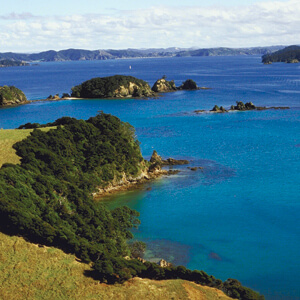 For a change from adrenaline-filled adventure sports pursuits, maybe try a driving holiday in New Zealand? Here are some ideas to get you started.
What to see in New Zealand
Along the coast
New Zealand has more than 10,000 miles of coastline. On the east coast the Pacific Ocean plays along bays and beaches with white sand, surf and calm harbors. On the west coast the wild Tasman Sea breaks against rugged cliffs, weathered rocks and long stretches of black sand.
There are road journeys that will keep you in touch with the sea every step of the way. Northland has the Twin Coast Discovery Highway, a touring route that includes both the east and west coasts. In the far south, the trip along the Catlins coast is famously photogenic. Taranaki's Surf Highway 45 is a west coast experience for people who want to find some of the best surf breaks in the country.
Natural phenomena
Ice ages, fault lines, volcanic zones and tectonic plate movements have all made their mark on New Zealand. It is a dynamic environment, sandwiched between two oceans and perched on the Pacific Ring of Fire. When extreme events happen below or above the earth's surface, unusual scenery is often the result.
Take the south-western corner of the South Island as an example. Here a procession of ice ages wrought an impressive collection of fiords. Further up the coast, there are two glaciers that refuse to believe the ice age is over - they're still creeping down into the rainforest.
For absolute in-your-face nature, the North Island will satisfy. Active volcanic regions, including a marine volcano that you can walk through, are outward expressions of internal turmoil. Take a wander through the geothermal areas around Rotorua and Taupo - fumaroles, craters and geysers are endlessly fascinating. Want some boiling mud? It has to be the strangest thing you'll find in a public park.
Lord of the Rings country
New Zealand was the setting for the world's most ambitious film project in history - the adaption of J. R.R. Tokien's Lord of the Rings. Kiwi director Peter Jackson used New Zealand's lush and varied landscape to re-create Middle Earth's forests, mountains, countryside and volcanoes. Jackson's special effects company, Weta, based in Wellington, then enhanced these landscapes and created other environments entirely as 3D virtual experiences. The results garnered the film multiple oscar and BAFTA nominations and awards. There are a number of companies that provide you with information about how to see the fantastic nature highlighted in the movie trilogy.
Action sports
Of course, adventure and action sports are everywhere in New Zealand. You can try your hand at mountain biking, hiking, rappeling, mountain climbing, skiing, zorbing, or bungy jumping, just to name a few. Just Google "adventure sports New Zealand" and you'll find hundreds of options and locations where you can risk life and limb while driving around the islands!
Driving in New Zealand
Self-driving holidays are one of the most relaxing ways of enjoying New Zealand's landscape. Many roads are scenic and traffic is low when compared to most places.
Although New Zealand is a relatively small country it can take many hours to drive between cities and other destinations of interest. Even when distances are short, hilly or winding terrain or narrow secondary roads can slow your journey. You can calculate your New Zealand travel times here.
You can legally drive in New Zealand for up to 12 months if you have either a current driver's licence from your home country or an International Driving Permit (IDP).
New Zealand's tourist routes are of a generally high standard and the main roads are sealed. All roads, including those in rural locations, are signposted. Remember to drive on the left!
Where to stay while on the road
For places to stay, try using our hotel booking provider for New Zealand. They have hotel deals all over New Zealand. Here are some quick searches for the largest places:
If that doesn't turn up any lodgings to your liking, go ahead and try the large booking services for even more options.
Advertisements:



Nomadic Matt has more on New Zealand Travel.
You should follow me on twitter here.