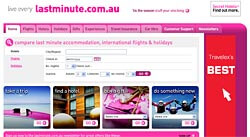 Worldwide travel giant Lastminute has re-launched their Australian site with a new design and navigation. It's a good improvement and worth giving a shot if you hated the old site, which would have been easy.
Advertisements:



At lastminute.com.au, you'll find the cheap flight reservations, hotel reservations, and other travel booking functions that you'd expect. But they've also included sections on Travel Trends and for buying gifts to friends, family, and loved ones. Another section I liked the look of is the Secret Hotels part of the site, where they're listing luxury hotels at heavily discounted rates.
Of course, the Australian site is mostly useful for people from down under, but if you're headed that way, take a look and compare prices - you might find a bargain choice in Oz that's not listed elsewhere.
You should follow me on twitter here.