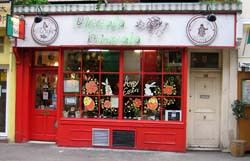 The 'Little Devil' is an appropriate name for a central Soho restaurant, and one of our favorites too. They always serve up great Italian food at decent prices and a pleasant athmosphere.
Let's hear it for Italian food
Advertisements:



Like several of its sister restaurants in the popular Biagio chain, Piccolo Diavolo has a big menu offering all sorts from soups and veal dishes to grills and healthy options. Add to this some daily specials, a long list of appetizers, and you've got plenty of choice.
During our last visit, I had some good beef stew (not too Italian, I know...) and my wife had a beautiful Scaloppine alla Marsala, i.e. veal in wine sauce. The veal almost fell apart in the mouth and was some of the tastiest meat either of us have ever had. Definite home run for the chef.
Speaking of the chef, the specialty dish here is the Scaloppine alla Piccolo Diavolo, i.e. pan fried veal escalope topped with fresh tomato and mozzarella cheese and served in a tasty white wine and parsley sauce.
Service and venue at Piccolo Diavolo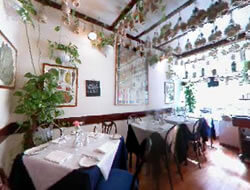 Traditional Italian things are everywhere, most noticeably the bunches of Chianti bottles hanging from the ceiling. All the staff are Italian too. They're friendly and noisy and it makes a visit feel like a quick holiday to Italy.
A fresh posy of flowers and a candle sit on every table. During the day the place has a buzz which by the evening reduces to a romantic murmur above the candlelight. It's a great place to take your loved one during the evening and in the daytime, for a quick stop while exploring London's Soho district.
The owner of the Biagio chain, Biagio Caroleo, came to England in 1969 after leaving home at 14 and working his way around the world as a cruise ship waiter. He opened his first restaurant in 1973 and has now grown the chain to 6 thriving restaurants.
Piccolo Diavolo contact details
Piccolo Diavolo
8 Old Compton Street
London
W1D 4TE
Phone: +44 (0)20 7437 1024
Website: www.biagio.co.uk
Nearest tube is Leicester Square
You should follow me on twitter here.