If you've ever been interested in seeing moose (known as 'elk' in Europe) up close and personal I recommend a visit to the Långshyttan Moose Park. Here, you get to meet these majestic animals so close up that you can pet them, which apparently comes as a definite surprise for most visitors.
Moose are usually quite shy animals, and you usually see them at some distance. They're also quite large, standing 6-7 ft at the shoulder and weighing up to 1,580 lbs for an adult male. Elvis, the male you see above, isn't quite that heavy, at least not yet, but is probably a solid 1,000 lbs or so. Having him come up to you next to the fencing is thrilling, as he'll tower over you.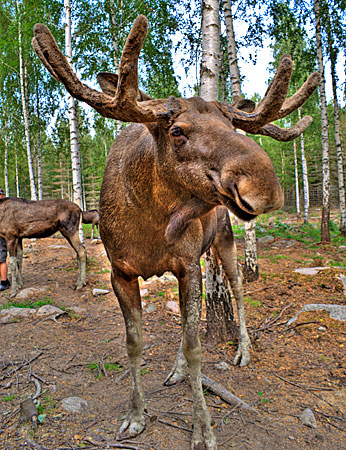 Of course, as you'll see the owner feed him bananas most likely, he doesn't seem quite as dangerous anymore. You might get to feed the calf and female with fresh twigs.
The Moose Park is well worth a visit, especially if you have kids. It's fun in either case, and probably one of the few opportunities anyone has to actually pet a moose's nose too. They're perfectly safe animals, as long as you don't get them drunk! See the clip below.
Advertisements:



Långshyttan is located 14 miles outside of the town of Hedemora in Southern Dalarna, Sweden. To drive from Stockholm takes about 2 hours. You'll need a rental car or find a friend with a car to visit, as the park is located in the forest outside of Långshyttan.
Address and phone
Långshyttans Älgpark AB
Nordviken 313
770 70 Långshyttan
Phone: +46 70 545 74 20
Web: www.langshyttansalgpark.com
Hours: Open May 23, 24 and May 30-August 31, Monday-Friday 10 a.m.-5p.m., Saturday & Sunday 10 a.m.-4p.m.
Entry fees: SEK 70 per adult and SEK 30 per child, August 2009.
Drunk moose terrorizes Swedish school
Children in a Swedish school are still terrified after a drunk elk terrorized them during school hours.
The elk has been wondering around the southern Sweden school for days. School officials contacted police who may have to shoot the 1,000-pound animal. Officials said the elk probably ate fermented apples and became inebriated.
Jan Caiman, a police officer in Mölndal, said, "That could be the problem. We could be dealing with a boozy elk. We believe that the apple trees in the gardens have a part to play in this. It was probably the apples that lured the elk over there in the first place. That could be the root of the problem. We may be dealing with an alco-elk."
School officials described the elk's behavior as "completely mad." One school receptionist said the children were very scared after their encounter with the elk.
Caiman said, "If it doesn't start taking it easy we'll eventually have to put it down."
You should follow me on twitter here.