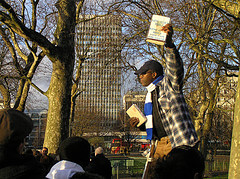 Summer in London is full of activities. Most expensive, but plenty for the perfect price of free which you can do. Yesterday, we presented 5 free things to do in London. Today, we're presenting 5 more great ones.
Go to the cinema
Advertisements:



Located on Borough High Street near Borough Tube station (Northern Line), The Roxy is a bar with a difference - it's got a bar out the back where you can catch free movies each Sunday through Wednesday. These include everything from Paul Newman classics to kung-fu flicks.
See a free concert in National Theatre
If you're one who likes all sorts of music and you're near London's National Theatre on Southbank near Waterloo Bridge, you'd be mad not to catch one of the free concerts there. Taking place Monday-Saturday at 5.45pm, and at 1.45pm on Saturday afternoons, jazz, folk and other types of acts can be seen.
Enjoy free DJs in the East End
Don't fancy paying in to one of London's clubs to see a top DJ? No worries! You can see them in different bars around the East End. These include The Hoxton Pony (pictured) at 104-108 Curtain Road in Shoreditch and Big Chill Bar on Dray Walk, just off the famous Brick Lane, also in the East End.
Hear people speak their mind at Speakers' Corner
Found at the north-east tip of Hyde Park near Marble Arch, Speakers' Corner is where anybody and everybody can jump on an old crate and voice their opinion on all sorts of subjects every Sunday. Whether it's politics or fashion, chances are there's going to be someone talking about it here.
Chill out in London's parks
London is one of the busiest cities in the world, so it's good to know the city's Royal Parks are free to enter when you want to get away from it all. The best-known of these is Hyde Park in West London, while St James's Park in front of Buckingham Palace is also a great place to relax.
You should follow me on twitter here.