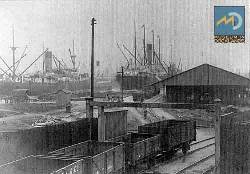 Tower Hamlets' residents can take a step back in time and discover the borough's fascinating history with the help of a free self-guide trail booklet which shines the spotlight on past lives and buildings.
Over the weekend of Saturday 13 and Sunday 14 September, walkers will be able to take a peak inside some of the borough's historic buildings that are not usually open to the public. With the help of the new East London Heritage Trails booklet, they'll be able to discover the borough and take advantage of special exhibitions which will tell more about the past. There will even be expert historians on hand offering a selection of guided walks over the weekend.
Produced by the Heritage of London Trust in partnership with Tower Hamlets Council, this is the first time that such an extensive selection of self-guided historical walks have been made available in a booklet, the East London Heritage Trails guide, in the East End.
Tower Hamlets Council's Heritage Champion, Councillor Denise Jones said: "The East London Heritage Trails give people the chance to delve into the East End's past. From the historic Royal Palace the Tower of London, from which the borough derives its name, to churches designed by Nicholas Hawksmoor and industrial innovations of the past, the walks explore generations of East End life. With the help of the booklet people can choose between 13 history trails and discover the borough for themselves."
The East London Heritage Trails have been designed to raise awareness of the heritage of Tower Hamlets and the East End. Many of the buildings, monuments and statues that are highlighted on the walks have received funding from the Heritage of London Trust to help restore and maintain them.
Advertisements:



The Trust is the only building preservation charity that covers the whole of London. Its aim is to preserve the best of the past.
Diana Beattie, the Trusts' director said: "From a historical perspective, Tower Hamlets is the most uniquely interesting and under-appreciated borough in the country. Fabulous trade from the East India Company and the rest of the World passed through the London docks bringing wealth, commodities and ideas which transformed the whole country."
The East London Heritage Trails and booklet will be launched at a special event at the Tower of London on Wednesday 3 September.
Alternatively for a free copy of the booklet send a stamped self addressed envelope to: The Heritage of London Trust, 38 Ebury Street, London, SW1W OLU.
You should follow me on twitter here.