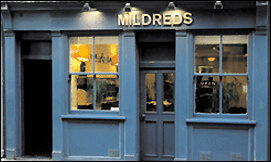 A cozy spot in London's Soho neighborhood, Mildred's serves exclusively vegetarian food for the area's bohemian and tourist denizens.
Mildred's prides itself on the quality of the vegetarian menu, everything's organic and very fresh indeed. While the menu changes frequently, there're always many gluten-free and vegan friendly options available. For example, the soups and stews or de-tox salads on the current menu.
Hearty dishes are available, with an orange and chickpea tagine served with fennel-flavored couscous. Or the leek and button mushroom pie for a traditional English dish with a twist.
The restaurant operates a no-booking policy and it's always very busy, so show up early and hope for the best.
Mildred's contact details
Mildred's
45 Lexington Street
London
W1F 9AS
Advertisements:



Phone: +44 (0) 20 7287 2544
Website: www.mildreds.co.uk
You should follow me on twitter here.