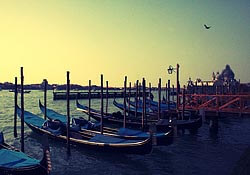 Time to share some of my recent travel article finds in another roundup. Here's what I've been reading and liking really a lot lately:
Starting out with Robert Reid. Nothing like a travel stalwart in sharing 44 little travel rules. Some are bonkers, some useful, some absolutely hilarious.
Jessica Spiegel spends a paltry 7 hours in Venice, and it's still worth it. Great photos as well.
Another really fresh post with photos, this time from Istanbul. Go and check out the views.
PracticalHacks has some of the best travel gear reviews I've ever seen. Very in depth.
Advertisements:



Yummy recipe for potato hash, picadillo de papas, from Marina K Villatoro. Central American food at some of its tastiest.
Some tips for all the solo female travelers out there. Dealing with unwanted attention is unfortunately an everyday thing for many women travelers, and Katie shares some very useful tips for this summer and any other trips.
Finally, eTurboNews shows up with some 'clever' ways of really irritating your flight attendant on your next flight. At least they can't throw you off until you land...
Got any more great travel posts? Share them in the comments below!
You should follow me on twitter here.