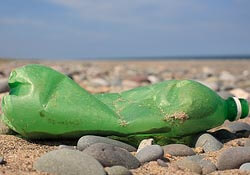 Responsible Travel just published a list of 10 points from a reader poll about the worst things that tourists do. These 10 are so easy to avoid, and make you look like a complete idiot to the locals. Here they are:
"Littering - especially plastic bags."
"Purchasing illegal souvenirs or food produce."
"Wasting water in destinations which face shortages e.g. Spain."
"Leaving lights on."
"Leaving air conditioning on in hotel rooms when you're not in them."
"Purchasing mineral water in plastic water bottles when the hotel provides drinkable water for re-fills."
"Standing on coral reefs. It takes approx. one hundred years for one inch of coral to grow. By killing it you affect the whole eco system."
"Disturbing wild animals by getting as close as possible for a better picture."
"Throwing cigarette butts on the ground."
"Failing to take advantage of recycling facilities where offered."
If you've done any of these, shame on you!
Advertisements:



Now, since eyeflare.com's readers actually eco-travel, check out some eco-travel resources for travelers, or my cheap and simple green travel tips.
While you're planning, here are 4 green getaways and 4 more. Once back home, please share your eco-travel tips in the comments!
You should follow me on twitter here.