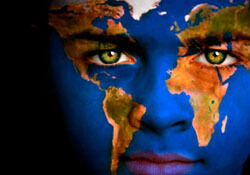 The rising cost of oil, continuing depletion of natural resources, and climate change are on everyone's mind. The travel industry has taken notice. In response to growing numbers of truly eco-sensitive tourists, hotels, airplane manufacturers like Boeing, Mexican destination villagers, and even the United States Government are getting into the show.
These days, there's no doubt that 'green' equates to cash-on-table for the travel industry, while at the same time tourism-operators do right by savvy customers. It's pretty dang chic' to treat Mother Earth with respect whilst out and about frolicking in the surf.
Advertisements:



If you're conscious of the environment and consider yourself an eco-traveler, here are 14 eco-friendly travel resources for your travel pleasure:
Green Travel Blog - RezHub.com incorporates Green Score ratings and information in every hotel search. Travelers get fast and simple tool to learn about environmentally friendly hotel choices
Green Hotels - "Green" Hotels Association encourages travelers to green up travel
Eco Friendly Air Travel of the Future - Discusses the impact of travel on the Earth. Making even minimal changes could affect the impact on economies and cultures around the world
Resource Conservation Challenge (RCC) - The USA Environmental Protection Agency resource regarding recycling while traveling
Tips to Save Money & Environment - From Geekabout.com
Green Travel Tips - "You don't need to sacrifice creature comforts or go off into the middle of nowhere to be a green traveler; you can visit big cities or small villages, and stay in small economy or luxury hotels"
Green Camping & Hiking - "Leave no Trace" is a timeless axiom of the camping ethic
Mexico Eco-Parks Near Cancun - The giant fiesta vacation doesn't have to mean a tequila-fired beach tabletop dance surrounded by marauding spring-breaker teenage monsters. In fact, the Spring break destination of Cancun is a short distance from gorgeous parks featuring regional wildlife
Green Lodging News - Green Lodging News focuses specifically on environment-related issues impacting "profitability"
Travel Green Now" - The Center for a New American Dream helps Americans consume responsibly to protect the environment, enhance quality of life, and promote social justice"
Travel Green With Tips From Google - SearchEngineWatch Blog
Happy Trails: Green Travel Blogs Pick Their Top Eco Destinations - The Guardian polled five eco-travel bloggers asking what their top green destinations are. Responses included El Remanso Wildlife Lodge in Costa Rica, Keveral Farm in Cornwall, and Balamku Inn in Mexico
World Surface - aims to encourage "Sustainable Tourism" to readers
Eco Travel Logue - Eco tourism is about about "discovering new ways of traveling and making a difference." When shopping for destinations, eco-sensitive lodging, from economy to luxury, or crave the latest eco tourism news and information, you should find it on Eco Travel Logue
You should follow me on twitter here.