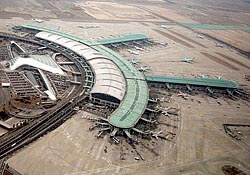 Traveling is expensive enough as it is, but some airports are making the pain worse by ripping off the travelers passing through. As the recession bites, airport operators are coming up with ever more ingenious diabolical ways of squeezing more money off travelers. Here are 9 of the most awful:
Transport to the airport
Trains or buses specifically labelled "airport services" or "shuttles" can be hideously overpriced. I've many times ended up paying more for the bus to Stansted each way than for the entire Ryanair flight. Yikes!
So before buying that overpriced airport bus service, see if there are alternatives such as standard bus routes. For example, while the Heathrow Express to London's Heathrow Airport will cost you £32 return, an all day Tube travelcard including all of the Tube system will only run you £7.50 for off peak. A single is £4 at any time. It does take a little longer, but of course you can hop on at any station as well, rather than only Paddington. Where you'd need to get to anyway, probably on the Tube. There are also plenty of bus routes. You should be able to find alternatives like this in almost every city.
Airport parking
Speaking of spending more money than your air fare, parking is a remarkably easy way to make sure that happens. A week's parking can cost you over £200 at some of the UK's biggest airports, or $210 at LAX (mind, this is priority parking), $126 at Kansas City International, Sydney charges $126, and so on. Airport parking is very expensive everywhere.
Rather than park at the official lots, why not do a quick search online to see if there are alternatives nearby. There are other commercial car parks that even put on a shuttle bus service while charging much less than half in most major cities. You can even find private individuals advertising an extra parking space in front of their house, which they'll rent out for a few dollars a day.
Airport check-in fees
Some airlines will charge you extra money to check in at the airport, or even make it nigh impossible. Yes, I'm talking about Ryanair. But they're not alone, and you should make sure you won't be charged extra just for turning up to your flight!
The fix for this is to check-in online before you turn up to the airport, which most airlines will now allow you to do.
Excess baggage charges
Take care with how much you pack, especially when flying budget airlines. The weight allowances are skimpy at best, and usually they're quick to charge you extra. Some airports are also quite well known to seemingly fiddle their scales, so your 13kg bag at the hotel just turned into a 17kg bag at the airport, so costing you excess. This also goes for domestic flying in the US, as most domestic airlines are now charging at least $25 for the first checked bag.
The solution is to learn how to pack lightly. You can, if you're clever, pack in enough for a week's trip in just a carry-on bag. Also, if there are more than 1 person traveling, go ahead and pack your stuff in a single checked suitcase if you can and save on the cost.
Clear plastic bags
Advertisements:



That little plastic quart size bag that you need for carry-on liquids could end up costing you extra at some airports. Some English airports and others in Europe, like Munich, have begun to charge for them. You don't want to spend a Euro for a little zip loc bag! This wheeze will likely become widespread soon.
Do remember to bring a few zip loc bags when heading to the airport. They're useful to get through TSA screening, as well as putting your soggy bar of soap in on the way home. Or even when putting together a packed lunch for the park during your vacation!
Duty Free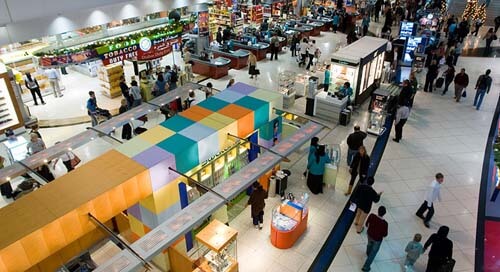 The Duty Free / Tax Free signs in the airport shops often work like a siren's call for guilt free shopping. Without taxes, it must be much cheaper, or so it is implied. Most of the time, that's not true, and you can find better deals elsewhere.
Most likely, you're better off financially by shopping around online or using the sales to find bargains. For example, while you can get a discount off the RRP on CKOne perfume at the airport, it's still cheaper every single day at Wal-Mart. And you won't have to carry the bottle to Paris and back during your vacation.
Airport food and drink
Bored and faced with a long wait, it's tempting to shovel in some extra food to make the time pass by. That is, until you see the prices being charged at the airport concessions. Even at the same places you'll find outside the airport, the prices are often higher.
My solution is to have a solid meal before heading to the airport, and bring a snack or two with me. That helps. And if you really do have to eat, shop around. Any travelers in UK airports should head to Boots though, as the prices are the same as elsewhere both for food and drinks.
Cash and foreign currency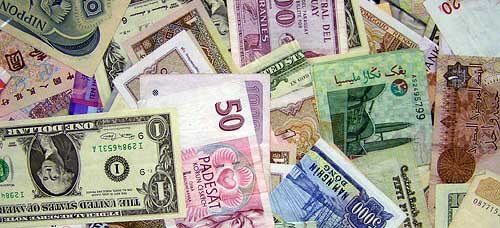 Bureaux de Exchange in airports will charge you higher rates than your own bank, or a specialist outside of the airport. Also, airport ATMs are likely to charge you a fee as well, adding to your vacation money pains.
The trick is to withdraw money from the ATM outside of the airport, and not use a moneychanger at all. Your normal ATM card will work just fine almost everywhere in the world, as long as you let your bank know where you're going and make sure you have a 4 digit PIN number.
Internet access
Logging on to the WiFi at the airport can easily cost you $30 for a couple of hours web surfing. While a few airports actually have free WiFi (yippee!), most charge about as much as your home connection costs in a month.
Just don't do it. Look up the travel information you need before going, and bring a book to read.
I hope these tips will help you travel more cheaply this summer, and next, and next... Do you have any other tips to avoid airport rip offs? Please hit the comments.
You should follow me on twitter here.