Amsterdam is a very compact city, but offers a world class range of things to do. There are cultural and outdoor attractions plenty, but often it's the unique experiences that lure tourists to the city: The coffeeshops and the Red Light District of Amsterdam. Here are the 7 things I believe you absolutely have to see and do on your first visit to Amsterdam.
1 - Visit a coffeeshop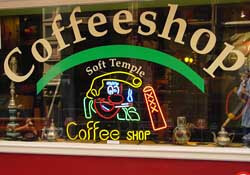 Might as well get this out of the way. While tobacco smoking is now outlawed in public places in Holland and Amsterdam, marijuana is still allowed. And the coffeeshop is the place to have some. But you don't have to inhale to enjoy the Amsterdam coffeeshops, as they also serve actual coffee, beer, soda, snacks, and so on. Most even have a proper menu and you can have a meal. Outdoor patios are common too in Amsterdam cafes, so you don't have to sit among the smoke.
2 - Do some shopping
From high end clothing to antiquing, Amsterdam has something for every shopper. The main shopping areas in Amsterdam are "Nine little streets", Kalversrtaat, Leidsestraat, Dam Square Area, Utrechtsestraat, De Jordaan, and Albert Cuypstraat. There are hundreds of small independent shops here, and you can find plenty of Amsterdam deals.
3 - Take a canal boat tour
Advertisements:



Amsterdam is famous for its canals and the best way to see them is from a canal boat. Trust me, the view from the water is quite different from walking along the sidewalks (or even being on a bike). Most tours take about an hour, and squeeze in most of central Amsterdam in that time. If you're with a loved one, time the canal boat tour to sunset or take one at night, it's very romantic.
4 - Indulge your artistic side
There are nearly too many museums to count in Amsterdam. But the most important ones are: The Rijksmuseum, the Stedelijk Museum for modern art, the Van Gogh museum, and Joods Historisch Museum. More unusual museums are the Erotic Museum and the Hash Marijuana & Hemp Museum. More Amsterdam museums are listed here.
5 - See the Red Light District
Amsterdam's Red Light District is quite safe, even at night, as there's plenty of police around at all times. While you could of course indulge in what the window ladies have to offer, most visitors are content with taking in the atmosphere of decadence and maybe watching a live show at one of the many clubs. That is, if they're quite daring! Just remember that it's a bad idea to take pictures of the prostitutes in the windows, you risk getting more than your camera broken. And the police are likely to take the girl's side rather than yours.
6 - Try the beer
Dutch beer is both strong and very fresh. Amsterdam is Heineken's home town, and you can visit the gigantic brewery if you wish. But there are hundreds of smaller brewers in Holland, and you can try all their wares in Amsterdam cafes. Whether you like stouts or fruit beers, you'll come away finding some new favorite beer.
7 - Visit Vondelpark
Vondelpark, Amsterdam's most popular and well known park, is a local favorite. Take a walk under the trees, picnic, or go for a run. Possibly the most restful time you'll have on your visit and a great way to recharge the batteries after exploring the other options on this list.
So, those are my 7 top tips for an Amsterdam visit. What are yours?
You should follow me on twitter here.