Celebrating Valentine's Day can be done in style in New York City. There's an unending array of options for romantic activities during the day, good food for a candle-lit dinner, sexy bars to get a night cap, and then on to a sleek hotel for a night with your sweetheart. Here are our recommendations for a Valentine's Day with a bang.
Romantic spots in New York
Carriage rides in Central Park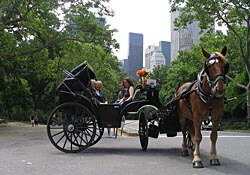 Start your day by heading over to 59th Street between 5th and 6th Avenues for a carriage ride through Central Park. You can get a ride from 11am to midnight every day of the week. Carriages, traditionally called "Hansom Cabs", are fun, romantic and create lasting images and lifelong memories.
Expect to pay around $35 for the first 20 minutes' ride, and then $10 for each further 15 minutes. A 50 minute ride will cover a lot of the park's best views.
Metropolitan Museum of Art
Located at 1000 Fifth Avenue, the Metropolitan Museum of Art is New York's finest museum. You could easily spend a whole day here. If you're a bit short on time, there is a spectacular wing devoted to the art of Africa, the Pacific Islands, Pre-Colombian and Native America. You also have the Egyptian galleries including the incredible Temple of Dendur. The three floor American Wing stretches out into Central Park in a glass enclosed garden.
If you visit during a weekend like this Valentine's Day, you can have a romantic cocktail in the main entrance's promenade.
Tickets are a suggested $12 for adults, and there's no extra fee for the special exhibits. Phone number is +1 212 535 7710 and you should also visite the museum website for any special events on the day.
Ice skating at Rockefeller Center
The most famous ice skating rink in the world, and it's a great romantic moment to have with your loved one. You may want to book ahead for this one, as only 150 skaters at a time can be no the ice. For this and more skating rinks, check out our page on ice skating rinks in New York.
Valentine's Day restaurants
Café Cluny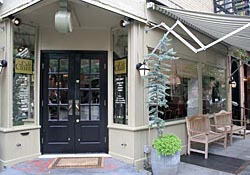 For dinner, Café Cluny is a portal to a Gallic village, where waitresses wear Audrey Tautou pigtails. Decorations here include pressed ferns under glass, stuffed songbirds, and other naturalist knickknacks. There are fresh flowers on the bar, the candles in the bathrooms are scented with golden mimosa (there are fresh flowers there too).
The food at this West Village bistro is as exact and well thought out as the venue itself, and here you'll find bistro staples like beet salad made with baby beets and aged chevre or a salad frisée topped with lardons and a poached egg, done just right. Or for something more substantial, there's stunningly good hanger steak served with baby potatoes and Swiss chard salad rather than the usual 'frites'.
Expect to pay around $90 for dinner for two. The address is 284 West 12th Street, and you can call in a reservation on +1 212 255 6900.
River Café
Advertisements:



With one of the best views in New York, the River Café lies just below the Brooklyn Bridge at 1 Water Street, Brooklyn. Many people consider the River Café to be the best restaurant in Brooklyn, and it might be the most expensive.
The romantic waterside eatery, which could easily skate by on its gorgeous views of downtown Manhattan, offers two exquisite prix-fixe menus: three courses (your choices) or six courses (the chef's choices). Outstanding dishes include crisp oysters with smoked salmon and caviar, rack of lamb or lobster specials. For dessert, few can resist the chocolate marquise Brooklyn Bridge, shaped like its sparkling namesake.
Expect to pay $78 for the 3 course menu or $95 for the six course. Reservations and smart dress are recommended. Call +1 718 522 5200 for a reservation.
After dinner drinks
End the evening at Smith & Mills, a tiny TriBeCa boîte in a former carriage house at 71 North Moore St. The cozy banquettes can accommodate only a dozen-odd patrons. Bright lights, big city? From this vantage point, New York feels like a small town.
Three blocks south, check out the skyline from the Peninsula New York's new rooftop bar, Salon de Ning. The vibe: 1930's Shanghai, with daybeds and mandarin-orange–flavored cocktails. A very extravagant and romantic spot for a Valentine's Day drink. The address is 700 5th Ave and you can call them on +1 212-765 9812.
Amorous hotels in New York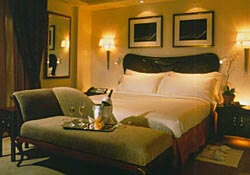 If you are already having a drink at Salon de Ning, the Peninsula Hotel New York is a great, if expensive, hotel to stay in. 5-stars and in neo-classical style, this is one of New York's premier hotels, complete with a spa and several bars and restaurants. Rooms start at $595 per night.
The updown On the Ave hotel is a modern, sleek, hotel with Italian black-marble bathrooms and comfortable beds. On the 16th floor, Adirondeck chairs and special patio-scaping provide an exclusive retreat above the bustle of the city in this authentic neighborhood hotel. Starts at $199 per night.
Pay a visit to the restored Plaza Hotel, where you can browse for art books at Assouline or try on vintage-inspired baubles at Kenneth Jay Lane, in the newly expanded shopping area. At the spruced-up Oak Bar, the wood paneling still glows warmly and the Central Park views are as stirring as always. Rooms start from $550 per night.
You should follow me on twitter here.