New York is great for ice skating in November, December and all the way to April when temperatures typically range from 45 to 65 degrees but the rinks are already open. In January through March, it can get bitingly cold, but a day with blue skies and the sun shining is still fantastic for a day out. If you're living in or visiting New York, take a few hours out of your busy travel schedule and visit one of these places to ice skate (there are even free skating rinks) during your time in New York City.
We also have the updated guide to ice skating in London.
Manhattan
The Ice Rink at Rockefeller Center

Ice skating at Rockefeller Center is a truly unique New York holiday staple, it's easily the most sumptous setting for skating. Since opening on Christmas Day back in 1936, this skating rink has been an institution at the Rockefeller, which is now known as 'Rock Center'. It sees over 250,000 skaters each year, so if you're looking for lots of room to practice skate moves, this isn't the right place. However, if you want to people watch and enjoy a great NYC experience, come on down.
The ice rink is open from October to April each year. The skating surface is 122 feet long and 59 feet wide and can accommodate only 150 skaters at one time.
The season is between October 2018 and through April 2019. Skating sessions are available from 8 am to 10.30 pm, and closing at midnight.
Admission is $25-32 for adults, children up to 12 yrs $15, skate rental $12.50.
Location: The Rockefeller Center Ice Rink is located in the center of the complex of buildings between 47th and 50th Streets and 5th and 7th Avenues, Manhattan
Phone: +1 212 332 7655
Website: Ice Rink at Rockefeller Center
Bank of America Winter Village at Bryant Park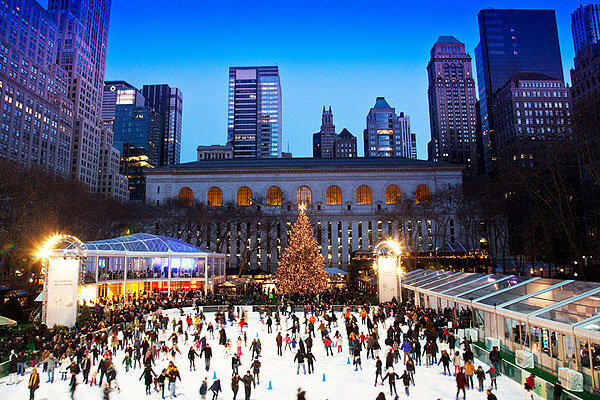 The free rink in Manhattan's Bryant Park first opened in 2005. At 17,000 square feet (i.e. 170' x 100'), it is about half the size of the Wollman Rink in Central Park and twice as big as the rink at Rockefeller Center. Now, if only one could actually get into this rink.
As Manhattan's only free skating rink, and centrally located at that, it tends to be mobbed with waits up to 2 hours on weekend days. Go when school is in session or earlier in the day and you have a chance of a few hours of free skating. Ice skating at Bryant Park is a fun, affordable way to enjoy winter in New York City.
Bring a padlock if you're going to use the free of charge lockers, as theirs cost $10 for purchase. Skate rentals are $20, so bring your own or the cost is the same as elsewhere.
If you're not going to skate, there's a viewing platform called the Overlook for you to enjoy.
The Lodge by Urbanspace is the Bryant Park food hall with a selection of restaurants.
There's a selection of shops available in the Winter Village too, and these stay open between October 27, 2018 and January 2, 2019. Opening hours are 11 am to 8 pm on weekdays, and 10 am to 8 pm on weekends.
Open dates: Daily 27 October 2018 to 4 March 2018, hours are 8am to 10pm.
Location: Between 40th and 42nd streets & 5th and 6th avenues, Manhattan
Phone: +1 917 438 5166
Website: Winter Village
Sky Rink at Chelsea Piers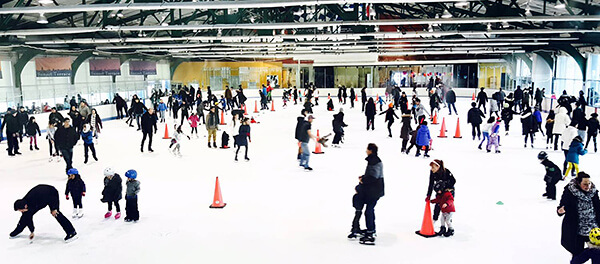 Manhattan's only year-round skating rink is a delight that's been around since 1965. It's large, indoors, has few lines, and courteous staff. It's also, amazingly, open 24 hours a day. The facility itself is well kept, as much as they're able to do with a rink built on a pier. The rafters have a tendency to spit on you during the summer from the humidity. And in the winter it sometimes gets so cold that the ice cracks, but at least they fix it!
The facilities include two full-size rinks, an off-ice training room, two party rooms and your standard locker rooms and pizza stand, though this one is a Famiglia pizza stand so it's actually good. It also has a great view of Hoboken.
Prices for skating admission is $12, and skate rental $6.
Location: Chelsea Piers, Pier 61, Hudson River and 17th St, Manhattan, New York, NY 10011
Phone: +1 212 336 6100
Website: ChelseaPiers.com
Riverbank State Park Ice Skating Rink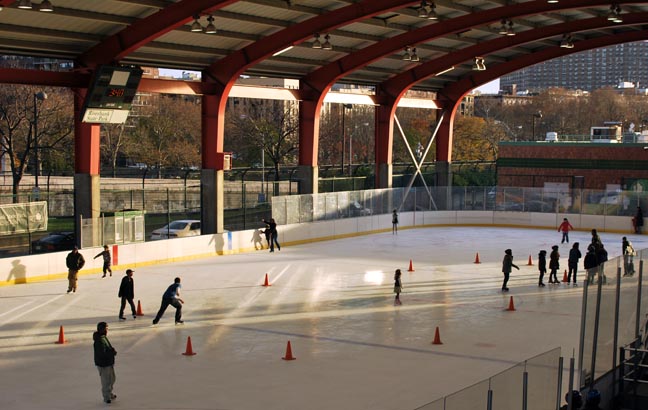 This sizable outdoor rink is open to the public Friday through Sunday, and has a roof to prevent December snows and April showers alike from raining on your ice capades. And since Riverbank State Park overlooks the Hudson, you'll have nice views of the river and the George Washington Bridge as a backdrop.
Riverbank State Park has the Sofrito restaurant on site and a snack bar in the skating complex. The park is open 6am to 11pm all year round, and ice skating is available from November to March, weather permitting. From May to October, roller skating replaces ice skating.
Admission $5, children $3. Skate rental is $6.
Location: 679 Riverside Dr, (between 137th and 145th Sts), New York
Phone: +1 (212) 694 3600
Website: Riverbank State Park
Trump-Lasker Rink and Pool in Central Park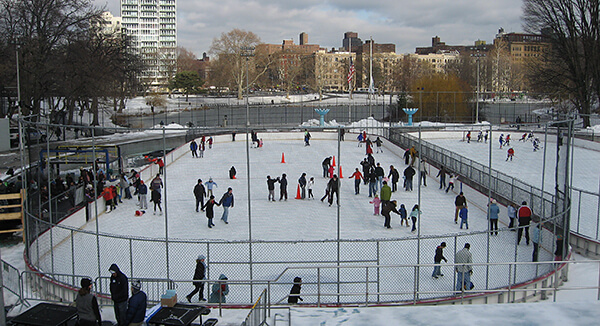 Bookending Wollman Rink, this one is at the very north end of the park at 110th Street. Quiet, tranquil, peaceful - how many other synonyms can we think of to describe the relative calm and ease of skating here? There is rarely a line, the ice is smoother (due to fewer skaters), and the attitude is just generally taken down a notch. It's also a great place to learn how to skate, as it's less busy and the ice is good.
There are skating sessions from 10 am to 4.30 pm each day, later sessions available on Friday and Saturday evenings (exceptions apply, see external website).
2018-19 admission for adults is $9, children $5, and seniors $3. Note that spectators are charged $5. Skate rentals are $8 and locker rental is $4 (plus $4 lock deposit), both inclusive of tax.
The site is cash only.
The ice rink opens on 2 Nov 2018 and the closing date isn't published at the moment, so check the website.
Location: Central Park between 106th and 108th Streets, Manhattan
Phone: +1 212 534 7639
Website: Lasker Rink
Wollman Rink in Central Park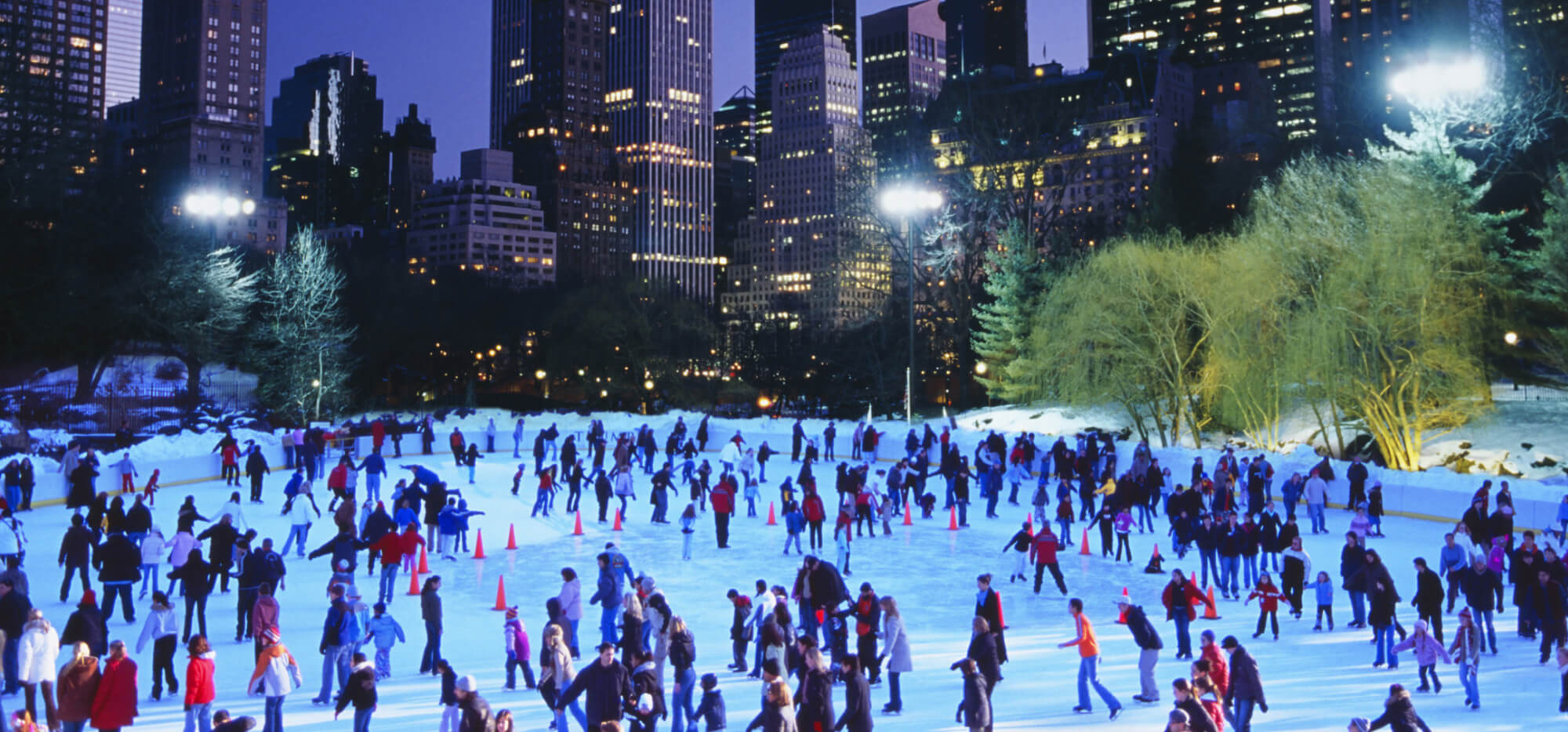 Wollman Rink, the perennial as-seen-in-movies Central Park rink. There are always long long lines here on weekends, but you can usually skate right in during school days, especially earlier in the day. Wollman Rink is another popular skating choice and is going to be crowded during peak times (especially weekends, though fewer kids around).
2018-19 admission for adults is $12-$19, children $6, seniors $5-9, skate rental $10 incl tax. spectating is charged at $5. Locker rentals are $5 plus $6 refundable deposit. Cash only.
Hours vary by day, Mon & Tue are 10 am to 2.30, and other days open to 10 pm, except Sundays which closes at 9 pm. Check website for more details.
Location: Central Park at 63rd Street, Manhattan
Phone: +1 212 439 6900
Website: Wollman Rink in Central Park
Brooklyn
LeFrak Center at Lakeside in Prospect Park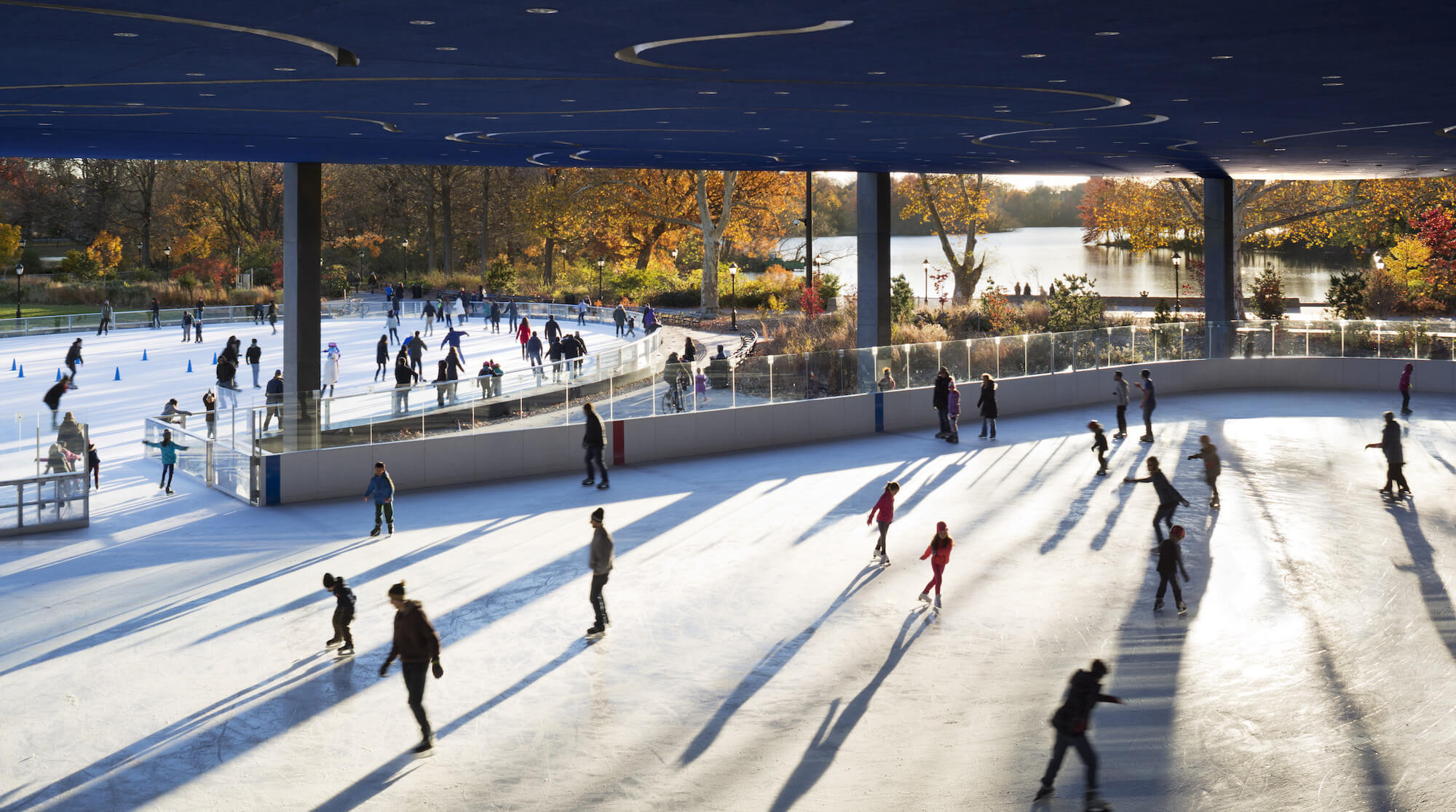 Located in the southern part of the park, near Parkside & Ocean Avenues, the LeFrak Center is another great ice skating choice. The Kate Wollman Rink offers fun for all seasons, providing covered and open rinks that provide 32,000 square feet of skating surface. The Park Drive also offers a 3.35 mile loop for inline skaters. Although not a part of the original plan for Prospect Park, the Rink, built in 1960, has added a big dose of winter fun for thousands of skaters, in addition to serving as home ice for local amateur men's and women's hockey teams.
This ice rink was previously called the Kate Wollman Rink.
Skating hours are Sun + Mon: 9 am–5 pm, Tues–Thurs: 9 am–7:15 pm, Fri + Sat: 9 am–9 pm. Open from late October 2018 through early April 2019.
Adults: $7; $10 on weekends. Weekend pricing begins on Fridays at 4:00 p.m. Skate Rental is $7.
Location: Parkside Avenue & Ocean Avenue entrance of the Prospect Park, Brooklyn
Phone: +1 718 462 0010
Website: ProspectPark.org
Abe Stark Rink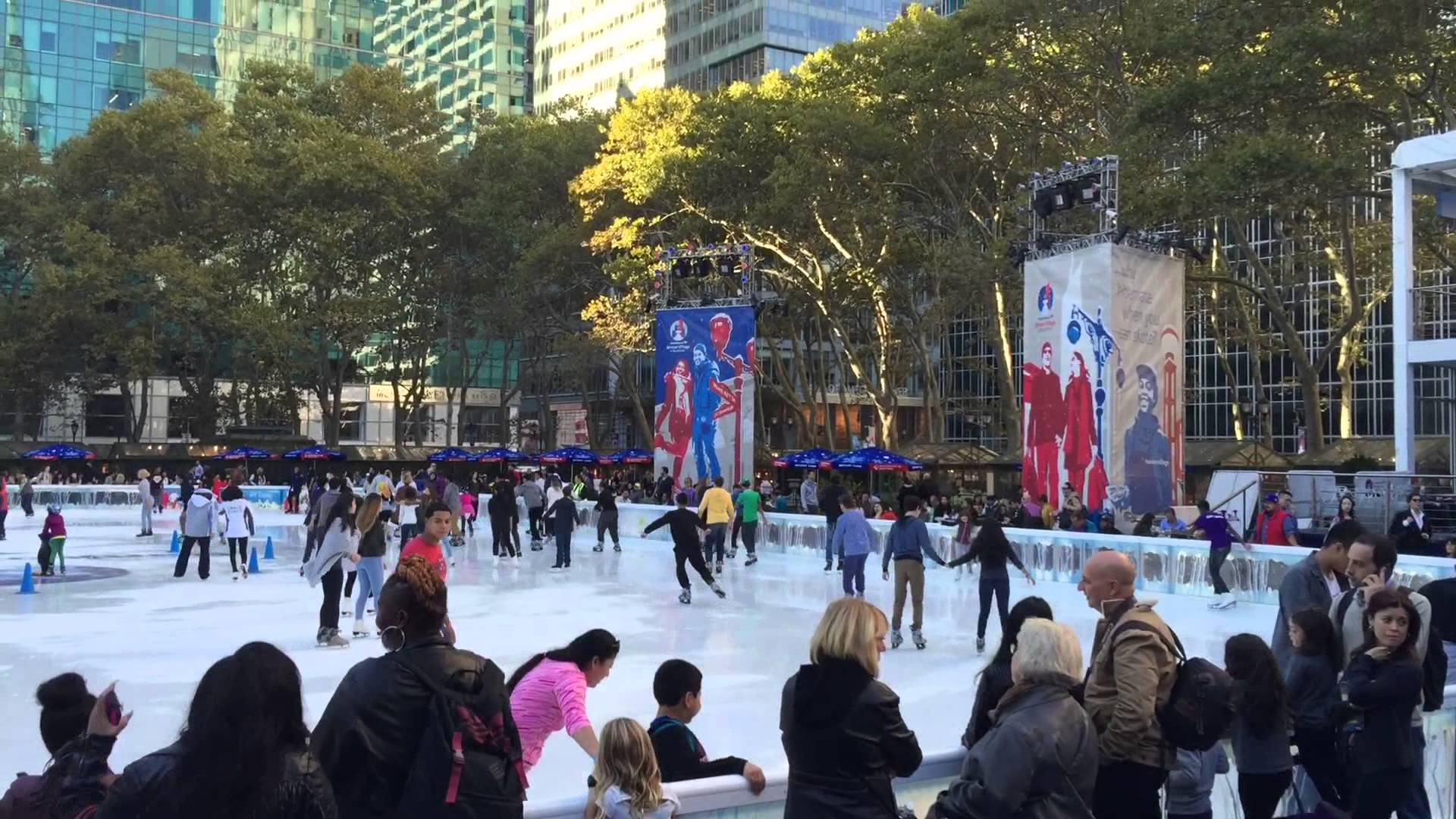 Lace up your skates for a day on the ice at this 17,000 square-foot pavilion. This place gets a good crowd, but there is plenty of room for anyone who wants to practice their moves. The rink is open only on weekends, from late October through March. Only open from 1pm to 4pm, and it fills up fast too. Cash only.
Adults: $10.00, Seniors (60 & older): $10.00, Children (12 & under): $10.00, skate rental: $5.00
Late to open, skating starts from mid-end November 2018 through to mid-March 2019. Only open on weekends, from 2 pm to 3.30 pm. Holiday hours are slightly longer: During Thanksgiving Weekend hours are from noon to 4:00 p.m. The rink is closed on Christmas Day and Christmas Eve; however, the rink will open during the holidays once Christmas Day is over, from noon to 4:00 p.m. The rink is open on both Martin Luther King Jr. Day and Presidents Day from noon to 4:00 p.m.
Location: Coney Island Boardwalk and West 19th Street, Brooklyn
Phone: +1 718 946 6536
Website: Abe Stark Ice Skating Rink
Aviator Sports and Recreation
Two NHL sized ice rinks are Brooklyn's response to the Chelsea Piers. There are hockey leagues and figure skating here, but also plenty of open times for public ice skating. Fridays and Saturdays are popular with the teens, so avoid if you don't enjoy lots of hormones on ice skates.
Aviator Sports was voted best public ice skate rink in Brooklyn for 2018!
2017 prices are adults $12 and children (ages 11 and under) $10. Members prices are adults $10.80, children (ages 11 and under) $9. Skate rental is $6.00/pair
Public skating hours are
Monday- Thursday: 11:00 a.m.-­3:45 p.m.
Friday: 11:00 a.m.-­3:45 p.m. and 7:30 p.m. – 11:00 p.m.
Saturday: 1:45 p.m. – 6:00 p.m. and 7:00 p.m. – 11:00 p.m.
Sunday: 12:30 p.m. – 6:00 p.m.
Location: Floyd Bennett Field, Flatbush Ave south of the Belt Parkway, Brooklyn
Phone: +1 718 758 7500
Website: Aviator Sports
Staten Island
Staten Island War Memorial Ice Skating Rink
Founded in 1995, War Memorial Ice Skating Rink of Staten Island, NY is an outdoor rink and open seasonally. Avoid the fumbling tourists clogging the Rockefeller Center and Central Park rinks by hopping the ferry to Staten Island's Clove Lakes Park to get your (ice) skate on.
Open from late October 2018 through mid-March 2019.
Skating hours are Friday 4:00 p.m - 11:00 p.m., Saturday Noon - 4:30 p.m. and 7:00 p.m. - 10:00 p.m., Sunday Noon - 7:00 p.m.
Holiday hours are Election Day from noon to 4:00 p.m., day after Thanksgiving Day from noon to 11:00 p.m., Christmas Eve from noon to 4:00 p.m., closed on Christmas Day, noon to 4:30 p.m. and 7:00 p.m. to 10:00 p.m. from December 16 – 30, New Year's Eve and New Year's Day from noon to 4:00 p.m., Martin Luther King Jr. Day from noon to 4:00 p.m., Presidents Day from noon to 4:00 p.m., noon to 4:00 p.m. during mid-winter recess.
2017 admission prices are adults $10, seniors (60 & older) $10, children (12 & under) $10, and skate rental is $5.
Location: Clove Lakes Park, Victory Boulevard, west of Clove Road, Staten Island
Phone: +1 718 720 1010
Website: Staten Island War Memorial Ice Skating Rink
Queens
City Ice Pavilion
The only rooftop ice rink in NYC is a full NHL size 200 x 85 feet. Even better, there's a weatherproof air dome just like you'd find in Canada. Which means it can deal with New York winters just fine.
There are skating lessons, hockey practice, and private rentals here. This leaves limited time for public skating, so check out the website's public skating schedule before going.
Prices are $7 Wednesdays, $10 Sunday, $10 Holidays including all school vacation weeks, $6 Skate rental per person, and coin operated lockers available for $.75
Location: 47-23 32nd Pl between 47th and 48th Aves
Phone: +1 718 706 6667
Website: City Ice Pavilion
The World Ice Arena at Flushing Meadows Corona Park
The NHL-standard indoor ice hockey rink serves as a year-round facility for competitive leagues and individual skaters. The modernist, architecturally distinguished building's cable-supported roof system will allow for potential future expansion.
The center is membership only, and the 2018-19 ice skating schedule was not published as of 1 Nov 2018, check the website for updates.
For 2017-18, Skating hours were 9 am to 5.15 pm on weekdays, with evening sessions available Friday through Sunday.
2017-18 Admission prices are weekdays $5.00, weekends (starting at 7:00 p.m. Friday) $8.00, and skate rental is $5.00.
Location: Avery Avenue and 131 Street, Flushing Meadows Corona Park, Flushing
Phone: +1 718 271 7572
Website: Flushing Meadows-Corona Park Skate Rink
Important ice skating safety guidelines
Never go on frozen waters (unless clearly marked otherwise with official signs)
Parents and caregivers should make sure children are never unattended near ice
If you hear cracking, lie down immediately to try to distribute your weight
If you witness someone falling through ice, never attempt to make a rescue by yourself. Call 911 and notify the proper authorities. Be sure to give the exact location and an account of the incident
See Also
NYC Dept of Parks ice skating rinks.
You should follow me on twitter here.