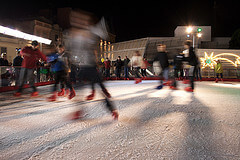 If you're looking for a marvelous open space to visit while you're in Chicago, check out the 24 1/2 acre Millennium Park, amid features such as fountains, sculptures, gardens, and one of the most important outdoor concert venues in the United States, you'll find the McCormick Tribute Plaza. From the middle of November through March, this Plaza is home to a beautiful ice skating rink, the McCormick Tribune Ice Rink.
Right on Michigan Avenue (a must-see location in Chicago anyway) between Madison and Washington Streets you'll find the rink open for long hours every weekend from Friday through Monday during the late fall and winter season.
Advertisements:



There are extended hours during the holiday season. Don't worry if you haven't brought skates because you can rent them for $10.
The rink itself is clean and beautiful and the ice is kept smooth and shiny in between ice skating sessions. It's a great place to get the feel of Chicago and the feel of the season. But the amazing part is the setting within the Millennium Park itself. Grab a hot drink, bundle up, and walk the paths to mingle with the locals. This is a great destination spot for a date, a family, or just to be alone with your thoughts and yet not feel lonely.
Address:
Visitors are encouraged to make the Millennium Park Welcome Center their first stop at the Park where specialists are available to help plan their Park visit. The Welcome Center is located at 201 E. Randolph Street in the Northwest Exelon Pavilion.
Phone: +1 312 742 1168
Photo credit: World Wide Ice Professionals (WWIP)
You should follow me on twitter here.