Millennium Park lies in the heart of downtown Chicago, creating a peaceful, green oasis amid the hustle and bustle of a vibrant city. The park is spread over a large area comprising more than 20 acres and, as a first stop when visiting, the Welcome Center is an excellent choice as park specialists are available to inform you of the attractions the park has to offer and to help you plan your day. Tours of the park can also be arranged and the Welcome Center is located on East Randolph Street and is open for most of the day.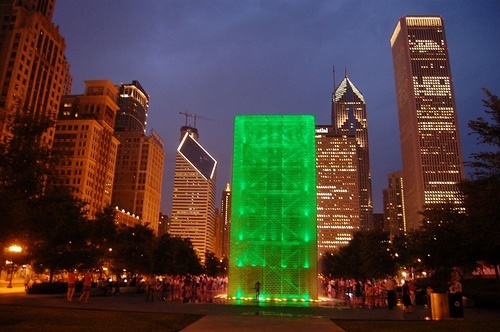 Advertisements:



The park has close to 100 years of history, with work having started in 1917, and was originally known as Grant Park. Over the years it has been updated and added to, such that it is now one of the premier locations to visit in Chicago. For those looking to relax, the park offers plenty of open spaces and landscaped areas to sit and enjoy a peaceful day. However the park has much more to offer than relaxation and there are many features which should be viewed as part of a visit.
Prime among these features is the interactive Crown Fountain with its two 50 foot high towers at each end of a shallow reflection pool. Images can be projected onto the towers to create stunning effects with pictures and water. Other artwork in the park includes the polished stainless steel sculpture know as Cloud Gate and the parks most notable feature the Jay Pritzker Pavilion. This is one of the most sophisticated and stylish open air music venues in America and holds many free events and concerts.
The park holds many types of events on a regular basis and you should check the schedule of events prior to visiting, such that if there are any you find interesting, you can plan your trip around these. The park is one of the most popular destinations in Chicago for tourists and locals alike and provides an excellent day out.
Millennium Park address and hours
Millennium Park
201 East Randolph Street
Chicago, IL 60601
Open 24 hours
Photo by celikins on flickr
You should follow me on twitter here.