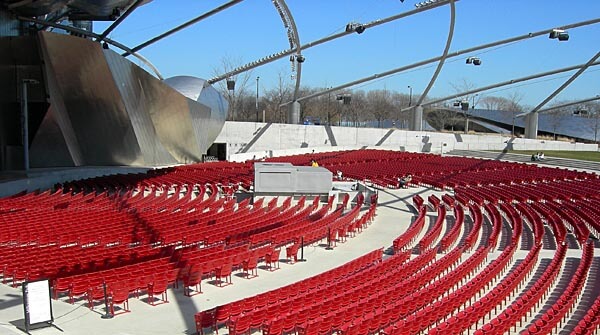 If you would like to see live music in Chicago, or even just check out some exceptional architecture, be sure to pay a visit to the Jay Pritzker Pavilion in Millennium Park. The pavilion hosts a variety of music events throughout the year, from classical concerts to performances by current bands. The pavilion's sound system was designed to provide the same kind of acoustics a concert hall offers, making it very different from other outdoor concert experiences. The pavilion is also known as Pritzker Pavilion or Pritzker Music Pavilion.
Advertisements:



The trellis at the pavilion is an awe inspiring sight. It is a staggering 130 feet, and is classified as a work of art. Even if you don't have the time to catch a concert at the Jay Pritzker Pavilion, it is worth paying a visit to just to see it in person. If you're lucky, you might even be able to enjoy some great live music as you get close.
Jay Pritzker Pavilion address and hours
Jay Pritzker Pavilion
201 East Randolph Street
Chicago, IL 60601
Open 24 hours
Photo by Tojosan on flickr
You should follow me on twitter here.