London's gifted with a number of great ice rinks during the winter. Several long-standing ice skating rinks have shut in recent years, such as Greenwich and Kew Gardens.
We also publish a guide to ice skating in New York City.
While some London rinks have closed, there are still a great number available this winter. Here they are:
Natural History Museum ice rink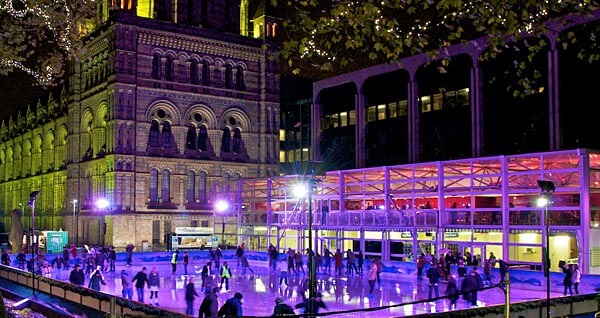 Consistently the first to open, the outdoor ice rink atn theNational History Museum's gardens, has the best setting of them all (we think).
Alongside the 1,000 square meter rink is a smaller "junior" rink and nearby there are several food stands, offering good organice and free-range food. Observers can enjoy a glass of mulled wine in the two-tier viewing area, café and bar. The fantastic museum will give you hours of educational entertainment once you're done with skating too.
Advertisements:



The ice rink is open from 23 October 2018 to 20 January 2019. Unfortunately for the 2018 season, ticket prices have increased, and the skating hours have been cut.
Prices are from £12.65 for adults and children from £8.80. Family tickets are £39.60 (two adults and two children). Opening hours are mainly 10 am to 9 pm, but check for a specific day's schedule.
Address, booking, and phone
Natural History Museum
Cromwell Road
South Kensington
London
SW7 5BD
Tickets and information on the website.
Somerset House ice rink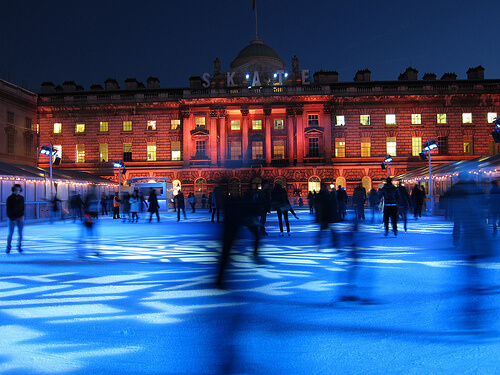 Probably the most well known, this skating rink takes over the central part of Somerset House from mid November to late January every winter. The rink is open from 8.45am to 11.15pm, and certain nights, like New Year's Eve, there are special sessions with champagne and fireworks!
This year, the Somerset House Ice Rink is holding skating sessions with Snoopy for the kids.
Late night sessions, from 8pm, are called Skate Lates this year, and will cost £17 per person to skate accompanied by a DJ and disco lights.
Get food and drink at the Fortnum Lodge.
This season, the ice rink is open from 14 November 2018 - 13 January 2019. Tickets are from £11 for adults. Special events and evenings such as New Year's Eve cost more.
Photo by Razlan on flickr.
Address, booking, and phone
Somerset House
The Strand
Covent Garden
London
WC2R 1LA
Telephone: +44 (0)844 847 1520
Tickets and information: Somerset House website
Skylight London at Tobacco dock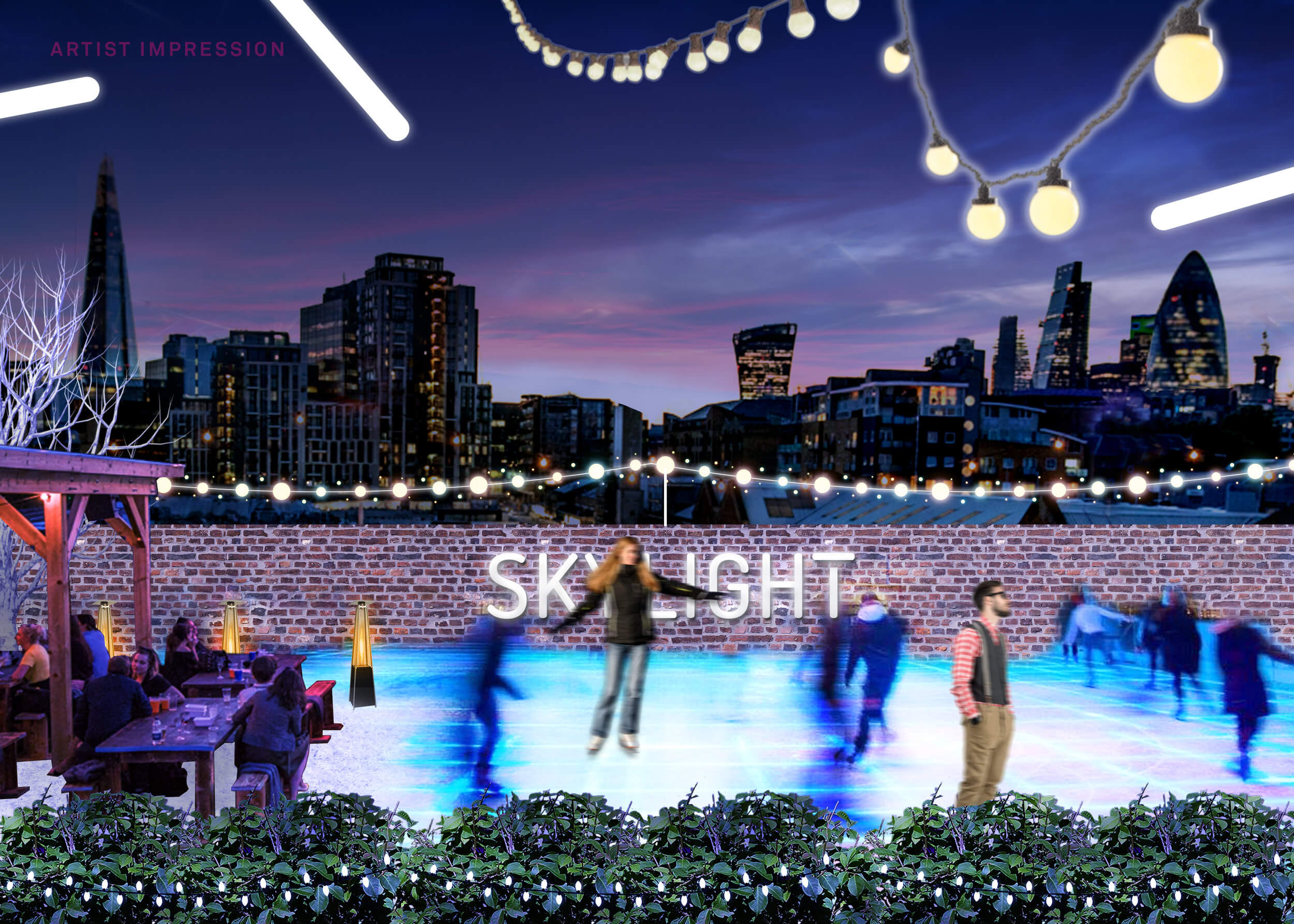 Skylight, placed on the roof of Tobacco Dock will host London's first rooftop ice skating rink this winter. It's a small rink compared to most, not surprising since it's on a roof! It promises the best view from any ice skating rink however.
Skating will cost £12 per 45 minute session including skate hire, and it's first come first served, with a maximum capacity of 50 skaters at one time. But when you're waiting, or after, there are street food stalls, fondue, and cocktails to tempt.If you don't want to skate, entry is free.
Open from 1 November to early January. Open Thurs/Fri 5pm–11pm and Sat/Sun: Noon–11pm
Photo by Skylight
Address, booking, and phone
Tobacco Dock – Pennington Street Entrance
Pennington St. Car Park entrance
Wapping
London
E1W 2SF
More information: Skylight website
Hampton Court ice rink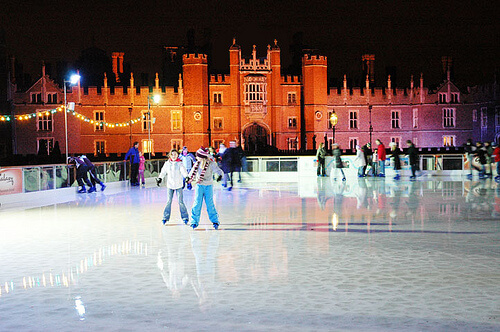 Located in the most extravagant palace grounds of any London skating ice rink, Hampton Court's rink is a little out of the way but a fantastic place to be during the season. And for 2018, the ice rink stays at a massive 1,040 square meters too. Open from 23 November to 6 January 2019, and you buy tickets through Ticketmaster or at the site. The rink has a cloakroom and skate rental.
If you're not skating, or just want to spend more time at Hampton Court, and you should, the Frost Fayre café will let you warm up and get some coffee and cake before or after your skating session.
Prices are from £14.50 for adults and children from £12.50. Family tickets are £46.00 (two adults and two children). Opening hours are 11 am to 9 pm on weekdays, and 10 am to 9 pm on weekends.
Photo by Visit Britain on flickr
Address, booking, and phone
Hampton Court Palace
East Molesey
Surrey
KT8 9AU
England
Tickets and information: Hampton Court Palace Ice Rink
Alexandra Palace Ice Rink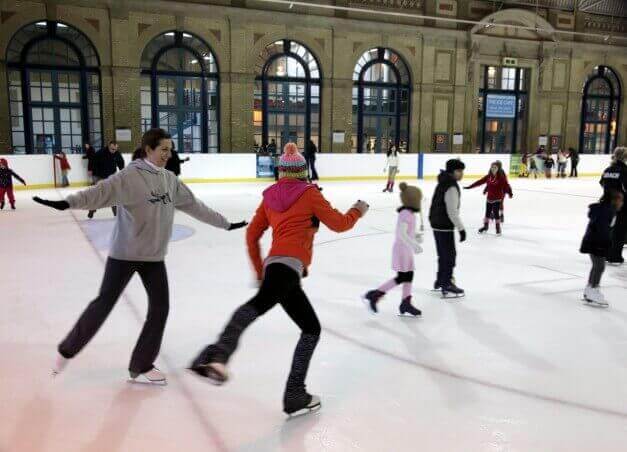 Reopened in the 2011 season after a £2.3 million refurbishment, the Alexandra Palace Ice Rink has taken North London's skaters for a slippery festivity season since. The ice rink is open year round, and offers skating lessons, hockey lessons, fun skating sessions, and even disco skating nights. You'll be able to hire this venue privately as well, and if you're all worn out skating, relax in the cozy café.
There are special events throughout the year called Ice Nation, one example is the Halloween skating party. And, it's a great opportunity to take in the astounding architecture of the Palace as well.
Ticket prices are from £9.50 for adults, but check the site for your desired times as some ticket prices are higher at peak times. Admission for spectators is charged at £1.50, but on Friday and Saturday evenings, everyone pays the full admission cost. Skate hire is included in the ticket prices.
Address, booking, and phone
Alexandra Palace Ice Rink
Alexandra Palace Way
London
N22 7AY
Phone: +44 20 8365 4386
Tickets and information on the Alexandra Palace website.
Canary Wharf ice rink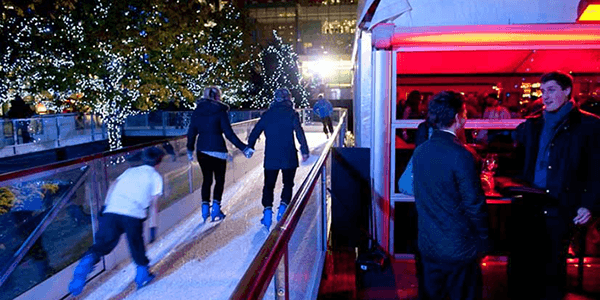 You can skate in the shadow of the Docklands landmark or have a warming drink or food at the pop-up bar. This is the only ice rink we know of where you can skate off onto a separate path under trees dressed in fairy lights!
Skating lessons are also available. The Canary Wharf ice rink is open Mondays through Fridays 12.10pm to 20.50pm, Saturdays 9.30am-21.25pm, Sundays 9.30am-8.20pm (last admission is one hour before closing).
Prices are £16.95 for adults. Kids up to 12 years old skate for £10.95. Family tickets are available too,and you may catch an early bird offer for just £9.95 per person. The season begins early November and closes near the end of February. Skate hire is included in the session prices.
Season dates are Nov 2018 to 16 Feb 2019, closed on Christmas Day.
Address, booking, and phone
Canary Wharf ice rink
Canada Square Park
Canary Wharf
E14 5AH
Tickets and information: Canary Wharf ice rink website
Tower of London ice rink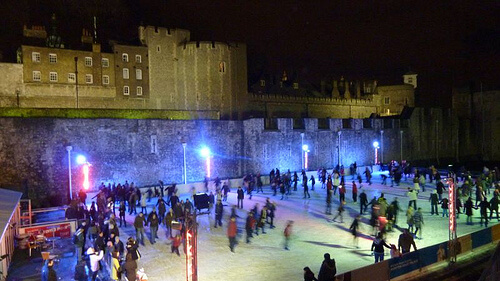 Set in the dry moat of the fantastic Tower of London, just outside the walls. This rink is surrounded by history and quite easy to reach from anywhere in Central London. The Tower's skating rink is open from about mid-November through the second week of January each winter.
There's a cafe on site for hot drinks and snacks.
Open 11am to 9pm.
This season's dates are 23 November 2018 to 6 January 2019.
Peak tickets are from £14.50 for adults. Peak hours are all weekend, and evenings after 5pm.
Photo by Yvonne on flickr.
Address, booking, and phone
Tower of London
The City
London
EC3N 4AB
Telephone: +44 20 3949 8344
Tickets and information: Tower of London Ice Rink website
Hyde Park Winter Wonderland ice rink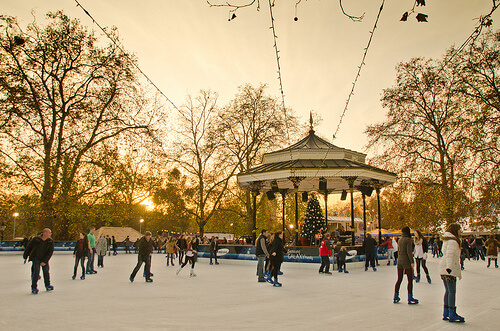 There's an ice skating rink set up in the popular Winter Wonderland fun fair in Hyde Park during the end of November until early January. The rink is surrounded by the other attractions of the Winter Wonderland, including food stalls, a ferris wheel and other rides, and plenty of Londoners enjoying the Christmas period. This is London's and England's largest ice rink and surrounds the grand Victorian band stand. This is the largest in the UK too, having grown from 1,600m2 in 2017.
The Winter Wonderland is free entry, but there's a charge for ice skating of £9.50 to £15.50 per hour for adults and £7.50 to £10.50 for children. Family tickets are £30 to £45 depending on day and time.
Season dates are 17 Nov 2017 to 1 Jan 2018, 10 am to 10 pm with last skating session starting at 9 pm.
Photo by Garry Knight on flickr
Address, booking, and phone
Winter Wonderland in Hyde Park
Tube to Green Park or Hyde Park Corner
Tickets and information: Winter Wonderland website
Queens Ice and Bowl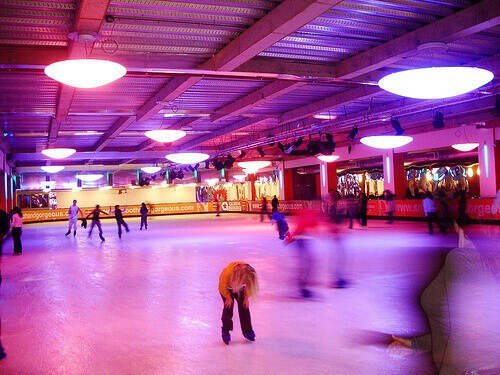 If you're looking at learning how to ice skate, try Queens' classes for adults or kids. Queens is open year round from 10am to 11pm, and in addition to ice skating and classes, has a number of ten pin bowling lanes at some of the best prices in London - from £6 per game.
Freshly re-opened after a refurbishment, Queen's has a fresh new look ice rink, 12(!) bowling lanes and an outlet of MEATliqour for food and drink. There are a further 2 cafés on site and a games arcade.
Less traditional is the Ice Karting. Yes, that is go-karting on ice which promises to be a blast. 20 minutes of racing is £39 per person.
During the weekends, there's more of a party atmosphere with a DJ playing songs for the people skating.
Queens ice skating rink is open 10am - 6:45pm every day and 8pm to 10:45pm and a session costs £12 for adults, £11 for children, plus £2.50 for skate hire. Look out for offers on the site though, as you could get skating for less.
Photo by Jonanamary on flickr
Address, booking, and phone
Queens
17 Queensway
London
W2 4QP
Telephone: 020 7229 0172
Tickets and information: Queens Ice and Bowl website
Lee Valley Ice Centre

The Ice Centre is the Centre of Excellence for the South of England and has a 56m by 26m ice rink that provides ice skating for all levels and abilities, from beginners to international competitors. The Centre has public sessions 7 days a week at various times and a learn to skate programme which operates 6 days a week for children and adults. When you're not skating, there's the Ice House Café to relax in.
There is a full stocked ice shop selling all skating equipment.
The center is open 7 days a week, and prices are from £9 for an adult in 2018, including skate hire. Children's prices are £6 under 5 years, and £9.50 under 16 years old.
Address, booking, and phone
Lee Valley Ice Centre
Lea Bridge Road
Leyton,
London,
E10 7QL
Telephone: +44 (0)20 8533 3154
Booking and information: Lee Valley Ice Centre website
Sobell Leisure Centre, Islington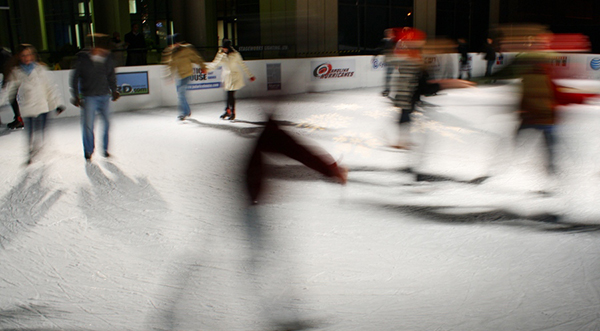 Sobell Leisure Centre has a 32 meter indoor ice rink with sound and vision. Skate hire is included and refreshments are available. Bring the family along for a fun experience on ice.
The center is open year round, and they offer public skating sessions each day of the week. This is the cheapest ice skating in London, with adult non-member prices just £5.70, skate hire is just £1.20. Opening hours for the public are late afternoon and evenings most days, with earlier hours on Saturdays and Sundays.
Photo by George Beinhart on flickr
Address, booking, and phone
Sobell Leisure Centre
Hornsey Road
London
N7 7NY
Telephone: +44 (0)20 7609 2166
Information: Sobell Leisure Centre website
Windsor on Ice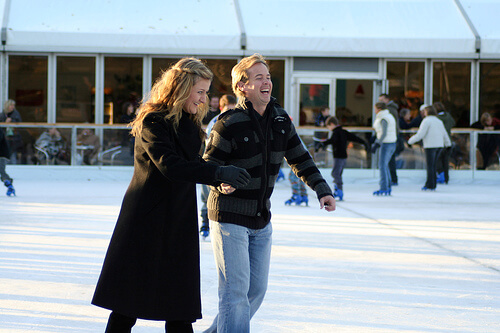 Getting out of London a little, but just an half an hour on the train, you can both visit the royal village of Windsor and get some skating time in. Take the train from either Paddington or Waterloo train stations to reach either of Windsor's stations.
This rink is open from late November to early January, so you'll need to make a fast decision about what date you want to skate here.
The ice rink café sells warming hot chocolates, mulled wine and festive snacks. It's also set in the grounds of Windsor Castle, which you can visit on a guided tour if you want to spend some more time. Windsor also has plenty of good shopping, so this is a good daytrip from London.
The skating season here is 17 November 2018 until 6 January 2019. Opening hours are 10 am to 9 pm, except Christmas Day.
Adult tickets are £12.50 for an hours session, childrens tickets are £10.50. Family tickets are £42. There's also a £0.50 booking fee.
Photo by Rachel Andrew on flickr
Address, booking, and phone
Alexandra Park
Barry Avenue
Windsor
Berkshire
SL4 5JA
Tickets and information: Windsor on Ice website
Broadgate ice rink
Unfortunately, this venue closed permanently in 2017.
The Broadgate Ice Rink used to be located at Broadgate Circus, right at the heart of the City, surrounded by bars and cafes. In 2014 it moved to the nearby Exchange Square, and got more room to skate. Perfect for a lunch-time skating sessions for City workers and any tourist or Londoner that happens to be in the City of London. Open from mid-November, this ice skating rink doesn't close up shop until the middle of February.
The rink is one of the cheaper, with £13 entry prices in the winter 2015 season and children skate from £9. Prices for 2017 are not yet released.
Skate hire is included in the price. There are no lockers at Broadgate ice rink, so don't bring any valuables that won't fit in your jacket pockets!
Open from mid-November 2017 to end of February 2018.
Address, booking, and phone
Broadgate Ice Rink
Exchange Square
London
EC2A 2BQ
Booking can be done on phone +44 (0) 845 653 1424
Tickets and information: Broadgate website
You should follow me on twitter here.