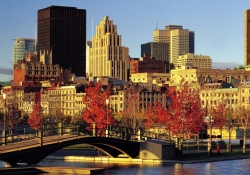 Montreal's charm lies in its old-world atmosphere rather than its star attractions. Nonetheless, this city of immigrants has managed to carve out a place for itself as Quebec's economic and cultural centre. That it's friendly and easy to get around helps.
Quebec's largest city keeps one foot in the past and one in the present, with 19th century churches nestled in the shadows of soaring modern skyscrapers. During the day, the city has a typically North American bustle - while French-speaking Montreal takes pains to retain its linguistic heritage.
What to do in Montreal
Every May, the 8 day Montreal Bike Fest takes place in Montreal. Activites include the Metropolitan Challenge, to the Tour la Nuit to the famous Tour de l'Île de Montréal.
Visitors interested in art will enjoy the Montreal Museum of Fine Arts. This great museum has a steady stream of special events and exhibitions, currently there's a Cuban Art exhibition on. Check the museum calendar to see what's on when you're visiting Montreal, Canada.
For more information about events and activites in Montreal, visit the Tourisme Montreal website.
Eat and drink
Aix Cuisine du Terroir celebrates Québec's finest products thanks to the innovative and flavourful cuisine of Chef Carl Röder. The warm and contemporary décor blends in perfectly with Le Place d'Armes Hôtel & Suites' classic urban chic design as well as with its new bar Suite 701, where Aix's cuisine serves up an upscale gourmet bar menu.
Alexandre's French brasserie cuisine treats its guests to sauerkraut, cassoulet, confit, foie gras, broiled meat and fresh fish from the market, all served in a convivial Parisian atmosphere. Upstairs, a British pub offers the choice of 12 tap imported beers.
Where to stay
Advertisements:



Montreal Hotel Delta Centreville is Montreal's best placed hotel close to Old Montreal where you can walk the centuries' old cobblestone streets and enjoy the vibrant nightlife, boutique shops, and eclectic cuisine.
Getting there
Flying to Montreal is easiest, with the city's airport served by all the major airlines such as American Airlines, Air Canada, British Airways, and JAL. Alternatively, visitors from U.S.A. can drive here, it's about a 5 hour drive from Boston and 6 hours 30 minutes from New York City.
You should follow me on twitter here.