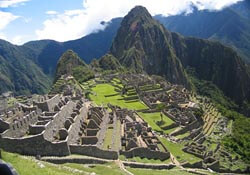 More messy air travel news this week, so maybe it's time to catch the train instead? And the Inca Trail is sold out, travelers to Peru will have to find alternatives or wait until the fall.
This week's travel articles
Apparently, if you had your sight set on the Inca Trail this summer, you're out of luck according to the UK's Guardian newspaper. The Inca Trail is sold out. Only about 200 tourists per day can set out on the trail, after the introduction of quotas in 2005. However, they also have some great tips on other hikes in the area, so if you've already bought your ticket to Peru, it's worth reading the article.
Michaela Lola writes about how online writing isn't getting the cred it deserves over at Brave New Traveler. Read When Will Online Writing Get The Respect It Deserves? As she says "Even if your writing is accepted by an elite online publication, telling your friends about your accomplishment will rarely evoke gasps of admiration. The reputation of inconsistent online quality is just too hard to shake, because so much mediocre writing is freely available through e-zines, online communities and blogs," which is very true.
Budget Globetrotting has an article on Traveling on the Rail, which covers your rail travel options in Europe, Australia, and the U.S.A. Take a look, and I agree that the U.S. needs to catch up to the rest of the world again.
Here's a new terror in the sky... an MSNBC article covers how Pilots claim airliners forced to fly with low fuel. Apparently, it's about cost savings. Let's hope your flight isn't diverted because of a major storm system!
And pilots from airline Go overshot a runway by 15 miles. No crash, but the pilots mentioned in Go Airlines pilots fired after overshooting runway weren't reachable from the control tower for 30 minutes.
If you've ever spent some time in a hostel, you know it can be a frustrating experience. Apparently, Leif Pettersen felt the same way and wrote up a list of tips in The Definitive Guide to Hostel Etiquette. Among the useful tips are "If you snore, alert your roommates and tell them the best way to get you to stop (in my case, get me to roll to my side). If you're an incurable snorer, go to a hotel" and "Just because you've been there a couple of nights doesn't mean you can take over the whole room by spreading your shit everywhere." Well said!
Cool websites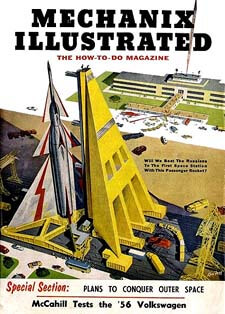 Despite funding concerns, NASA prepares to build a base on the moon, explore it with robots, and maybe even cover it with antennas. More over at Discover Magazine and The Space Race For The New Millennium.
US town escapes 666 phone prefix. I suppose it was a little difficult for the local priest to explain that area code.
Great Chuck Palahniuk quotes.
If you're always struggling to use a normal day planner, try using a Circle of Time layout instead.
Advertisements:



For anyone that's performed an interview, you know it can be difficult to get your subject to open up and say something useful. Brave New Traveler has an article by Sarah Stuteville with 13 Simple Journalist Techniques For Effective Interviews.
Most popular on eyeflare last week
Share your websites
If you have a website you'd like to share, please leave a comment below and you could be included in next week's roundup.
You should follow me on twitter here.