The island of Florianopolis, in Brazil's Santa Catarina province, is one of the world's best surfing spots. There are a massive 42 beaches on the island and some of the world's best known surfing hot spots like Praia Mole and Praia Galheta.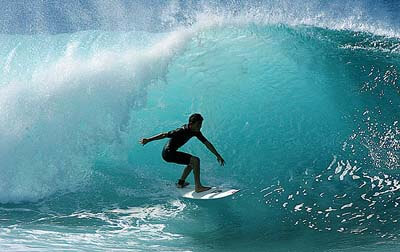 Most people that go surfing in Brazil end up attending a traditional surf camp. This is a cheap way to experience Brazil's surfing, but with the standard bunk beds, cafeteria style food, and remoteness to the cool Brazilian nightlife, it's hardly glamorus.
Enter Nexus
Advertisements:



Nexus Surf Holidays arrange some very high end surfing trips to Brazil's Florianopolis. These trips come complete with a nightlife schedule at the best parties in Floripa, beach side Florianopolis hotel accommodation near the perfect beaches of Praia Mole and Praia Galheta, and equipment hire you'll need. This is a new and unique concept in personalized adventure travel for Brazil, geared towards high end travelers.
Not only will a trip to Florianopolis with Nexus Surf get you some radical board time, you'll also have access to the local culture, which is usually hard to to while traveling on your own or in a 'surf camp'. They'll also arrange your trip before coming, so that your surfing vacation is focused on fun on this really great island, both day and night.
More adventure activities in Floripa
Besides the best surf in Brazil, Florianopolis offers a lot of other adventure travel activities: Kitesurfing, windsurfing, yoga, sandboarding, snorkeling, paragliding, mountain hiking, river rafting, horseback riding and more. There's a lot to do, and Nexus can help with these adventure travel activities as well.
Travel to Brazil and Florianopolis
Getting to Brazil from the U.S.A. or Europe means a long flight. The Brazilian operators, Varig and TAM, both have a wide selection of departure airports around the world, as do the major airlines like American Airlines, British Airways, and Lufthansa. The quickest way to find a cheap tickets with any of these is to use one of the air fare consolidators such as Kayak.com
or CheapTickets
.
It's easier to find places to rest your head. Cheap pousadas (guesthouses) are everywhere and even business hotel rates are reasonable for American or European travelers. In some areas, you can even just rent a hammock for a night and sleep outside for a couple of dollars!
Getting around inside Brazil is a little harder, the lack of spoken English is pronounced - so asking for advice is hard. There are however long distance bus services going to every little village in the country. And there are airports in or close to every medium size city. The nearest airport to Florianopolis is Joinville, and you can rent a car or take a 2 hour bus ride to the island. Of course, if you're going with an organizer like Nexus, this will all be taken care of for you.
You should follow me on twitter here.