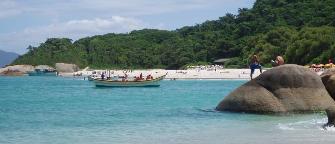 Florianopolis is an island off the southern coast of Brazil and the place to be if you're a vacationing Brazilian. Actually, Florianopolis is the name of the main city on the island (also the state capitol) and the island itself is named Ilha de Santa Catarina. It's a fairly small island, maybe 80 km long and 25 km wide. But, it is scalloped by over 40 beaches and is filled with fair sized mountains and a large lake in the middle. It also has a very agreeable climate.
In other words, it's the perfect resort island. Floripa is also outstanding for a surfing vacation.
My stay was in a small town on the northeast end of the island, Praia dos Ingleses. It's probably really dead in the winter but now in summer it's a pretty nice place to be. Very laid back, filled with 30-something couples, families with kids, and a whole lot of kids in their late teens. There are beaches such as Praia Mole that caters better to the party-until-you-drop crowd, but this really suited me.
Can't say there was much to do but spend time on the beach, eat food, drink, look at beautiful women, and stroll around and check out the market stalls. On Saturday night a group of Capoeiristas (a Brazilian martial art / dance) were training on the marketplace so sat and admired their grace for a long while.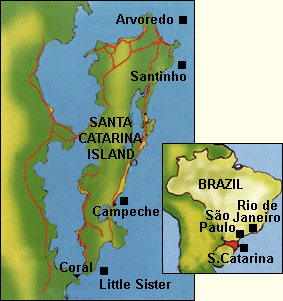 Earlier that day I'd driven from dos Ingleses to Lagoa de Conceicao on the southern end of the big lake and taken the ferry to Costa da Lagoa. It was a gorgeous ride under the mountains and at the end was a nice little village and a few restaurants with good seafood. After this I'd driven to Praia Joaquihn where there are surfing championships every year. Not any good waves though so not much to see and I continued on to Praia Mole. Definitely a good place for bird watching.
Advertisements:



Rest of the weekend was spent swimming in the Atlantic and walking on the beach. Sunday night I returned to Joinville and took a bunch of pictures in the foundry.
Yeah, I actually did work too.
This week is a lot of work, and so will beginning of next week. Going out tomorrow night with people from work though so a little respite.
Haven't planned my weekend yet. But I'll probably drive to the beach on Saturday, and on Sunday, well, who knows.
You should follow me on twitter here.