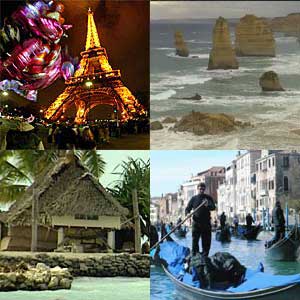 A UK study with Google and comScore is showing that travelers are getting smarter when they're looking for vacation bookings online. Over 20 million travelers used search engines and online travel consolidators to find trips in the last 3 months of 2007.
Here's how they end up using the online booking tools.
A month passes between searching and booking
Advertisements:



In the 29 days between the first travel search and actually booking those flights and hotels. Their research takes them by 22 websites that they find with 12 searches. Almost half take even more than a month out to research options, so there's a lot invested in each booking.
They visit the site they book from 2.5 times before buying
Given that there's a lot of shopping around involved, it's not surprising that many customers come back to the same site several times before buying. Comparison shopping is the name of the game, and it's only getting harder for travel sites to keep customers as more and more travel booking sites are coming online.
Customers search for generic travel terms
And this means that anyone who can grab travelers with lots of good information about the destination they're looking for is more likely to get their attention. Anyone that has, say, a site focused completely on New York and booking hotelrooms in New York has a chance to do quite well for those visitors. Good travel content, in other words, is still king.
Even when the customers are just ready to press the 'Buy' button, they're still searching for these generic terms! Which means a new site altogether can grab that person's money. And because of that, they're unlikely to find the best deals... as most people are still comparison shopping up to the last minute and the buy might still be completely on impulse! This quote shows that a big marketing budget rather than great deals are very effective:
Google U.K.'s Robin Frewer, Industry Leader, Travel said, "This research proves travel searchers are becoming more brand fickle - spending a large amount of time researching their desired purchase, and considering offers from competing brands. The fact that users are using more generic search queries gives ample opportunity for brands to attract new customers - and brands that are not present during these searches are missing out on sales."
Become more budget-aware in buying travel
If you're more interested in finding the best deal possible for your money, what you need to do is be more organized than these normal travel buyers. Here's a handy step-by-step list to search for travel bargains, take notes as you go along and it won't take you more than an hour or two:
Check the travel meta search engines, these are the two I found best:
Bargain hotels: Hotelscombined.com
Cheap air tickets: Kayak.com
This will narrow down your list of options, and you should keep the windows open while you go through the next steps so you can easily refer back to the results and prices.
Go directly to your best options websites. For example, if American Airlines seems to have the cheapest flight tickets to Los Angeles, check how much a ticket is on aa.com. You might find that they're even cheaper here. Do the same for the five best prices you got in step 1.
Get offline and call a travel agent. For the best results, start with the Yellow Pages and try to find a specialist for the country you're going to. They often have the best knowledge and may be able to get you a better fare or hotel price. Alternatively, they may be able to sort you out with better quality accommodation, a nice rental car, or more flexible flights for the same money or just a few dollars more. Sometimes comfort is more valuable than a few bucks... especially now that I'm a bit older!
Go right back to your best option and book it. Yes, now. The super-bargain price you just un-earthed won't last long, whether online or offline.
Of course, the caveat to all this is that the further ahead you plan your trip, the more cheap travel options you'll have. A week before you're going away isn't the time for a frantic search! Actually, if you're this late, you're likely to find that your travel agent will have the best prices for you. Ideally, plan your trip 3 or 4 months in advance for high and mid-season trips and you should get plenty of value for your money.
While you're planning ahead, remember that search engines are also a great way of finding cheap car hire deals. The market is very competitive so make sure to compare prices thoroughly, including all the extras such as rental car insurance, extra driver, or mileage that you may need.
Good luck finding a vacation bargain, and don't waste time like almost everyone else!
Do you have any great tips on saving time and money while travel planning? Share them in the comments below.
You should follow me on twitter here.