I love taking some time out while travelling and visiting a coffee shop or great café. But finding a good independent one in a strange city can be tricky. If you don't want to end up in Starbucks, again, try one of the Delocator sites.
Delocator.net in the U.S.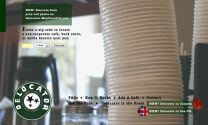 The U.S. site, Delocator.net, has more than 5,000 independent coffee shops listed right now. This means that almost anywhere you go, you can find a quirky and cool café. The premise of the site is really simple, just plug in your current zip code, and choose whether you're looking for coffee, books, or a movie theatre. You'll get a nice listing of results.
For example, a search for coffee shops in New York 10010 came back with 262 listings within 1/2 mile! A smaller town, like Carmel in California (zip code 93922) turned up 2 listings. And in Las Vegas, Delocator helped me find the ReJavanate Coffee Lounge.
It's not just about coffee shops though, as Delocator also has listings for independent book stores and movie theatres.
Delocator.org.uk for United Kingdom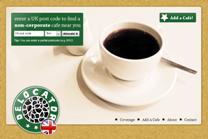 On the other side of the Atlantic, the more recent UK site Delocator.org.uk doesn't have as many listings, but a good start at just over 800 coffee shops.
A search for independent coffee shops in Covent Garden, London (post code WC2) turned up 24 listings, among others my favorites Patisserie Valerie and Café Vergnano.
Delocator.ca coming to help out in Canada
Advertisements:



For those north of the border, Delocator.ca will soon be available to search for independent cafés all over Canada. As of today, the site is being built, so I can't tell you anything about how good it is yet.
Missing your favorite coffee shop?
If you use any of these sites, please do add your own favorites if they're not listed. It helps out other travellers and also the owners of those cafés. It's tough going up against the corporate coffee shops like Starbucks, so they can use your help in the quest for better coffee.
You should follow me on twitter here.