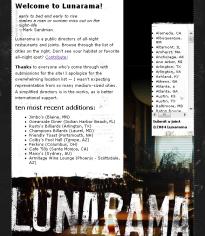 Lunarama helps you find late night restaurants, cafes and food joints all over the USA. A great site for a midnight traveler.
Coffee and donuts at 3 am
Lunarama carries thousands of user submitted listings of late night food joints. And more are added all the time. The descriptions are short but obviously submitted by people that really like the places they recommend.
Advertisements:



Listings are more complete for major cities like New York or Chicago, but even for a traveler passing through Baton Rouge, Louisiana, or St Louis, Missouri, you'll find somewhere to get some food. Or just a coffee and a donut before getting back on the road.
So far, it seems that the Dennys, IHOPs and Waffle Houses of America haven't found the site. And since those places are to be avoided, that's a good thing.
Help build the inventory
If your favorite late night restaurant isn't listed, there's a simple form to add it to the site. So if you feel like helping out a fellow traveler and your local mom n' pop 'open all night' café, please add a listing.
I really like Lunarama. Like Delocator, it helps you find the gems rather than the local Starbucks or Country Kitchen.
You should follow me on twitter here.