I'm sorry to say this coffee shop is now closed down.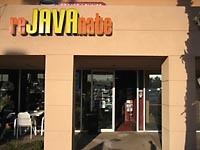 Great independent coffee shop that's been voted #19 of the '100 Best Things of Las Vegas' by Las Vegas Life Magazine!
ReJavanate serves up a great cappuccino or espresso in eclectic surroundings. Both are highly worthwhile, and while I initially thought the cappuccino a bit timid the flavor really came through after a few sips. The owners say this about their choice of coffee beans: "We tried over a hundred coffees ... But time and again kept coming back to Caffe D'Arte ... A lot of people try it and think it's not that strong ... That's the one thing we learned. People are used to an over-roasted, or burned, coffee (Starbucks). When they taste something that isn't they're surprised."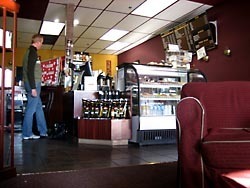 Along with a casual, friendly environment, reJAVAnate also offers free Wi-Fi Internet service and has a computer for customers to use as well. A piano sits in the back corner of the store, along with an acoustic guitar that occasionally gets a strum from a patron.
In the ReJavanate lounges, there are special events almost daily, such as the UNLV students' Jazz Night on Thursdays or scrapbooking on Sundays. Additionally, they carry stock of local authors' books in the stores and do special exhibits of local artists' work.
If there's anything to criticize, it's the lack of food. Some sandwiches or bagels would go down a treat and keep customers in store for longer. They have a great range of pastries, cakes and cookies though. Try the chocolate cake or the raspberry tart for something special.
The coffee lounge was originally located through Delocator, a great resource when you need to find an independent coffee shop.
Directions to ReJAVAnate Coffee
Advertisements:



I'm sorry to say this coffee shop is now closed down.
You should follow me on twitter here.