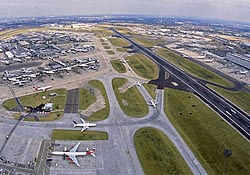 Out of London's 5 main airports, Heathrow Airport is the most well known and most used. Around 90 airlines fly from Heathrow to over 180 locations worldwide, carrying nearly 68 million passengers and 1.3 million tonnes of cargo each year. Heathrow has five terminals, two main runways, and a cross wind runway.
The airport is located 24km, or 16 miles, away from Central London, due west. It's the main airport both for London and the western Home Counties as well as much of the west of England and the Midlands.
With passenger numbers far above the airport's initial design capacity, it's known for delays, overcrowding, and in general being a bit of a hassle. The new British Airways Terminal 5 has only slightly addressed that so far. Though it has rapidly improved since its inauguration.
Useful information about Heathrow Airport
Address
BAA, Heathrow Airport
234 Bath Road
Hayes, Middlesex
UB3 5AP
United Kingdom
Getting to Heathrow Airport
Tube: London Underground's Piccadilly Line provides the most cost-effective rail route between Heathrow Airport and the capital. Journey time is under an hour and you shouldn't have to wait longer than ten minutes for a train, even off-peak. Heathrow has three London Underground stations – one for Terminals 1, 2 and 3 and one each at Terminal 4 and Terminal 5.
More information about the London Tube (the local subway system). If you're planning on using public transport in London, check out our tips for cheaper London public transportation.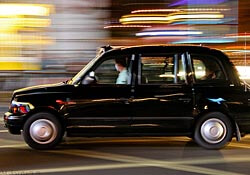 Taxi: London licensed taxis stop at the taxi ranks outside each Heathrow terminal. In central London, taxis can be hailed on the street or booked through your hotel. The journey to central London costs between £40 and £70 and takes between 30 minutes and one hour. Journeys which are both inside London and within 20 miles of the airport are priced using the taxi meter. The fare for travel outside London should be agreed beforehand with the driver.
Advertisements:



Car: It takes approximately 45-60 minutes to get to central London from Heathrow. When leaving terminals 1, 2 and 3, follow exit signs to the access/exit tunnel. Follow signs to the M4 motorway, which will eventually bring you into London. Terminal 4 is on the main A30 road while Terminal 5 is close to A3044. The M4 and M25 orbital are signposted. Again, follow signs to the M4 which will eventually bring you into London. We highly recommend pre-booking your Heathrow Airport parking before arriving to ensure a space and save.
Rail: The Heathrow Express trains operate frequently to London Paddington station. You can book online with Heathrow Express
Bus: There are National Express coaches operating from all Heathrow's terminals to cities across the UK and into central London. Passengers landing at Terminal 4 who need a coach from the central bus station can take the Heathrow Express, which takes 5 minutes. For more details on services into London please check with National Express.
You should follow me on twitter here.