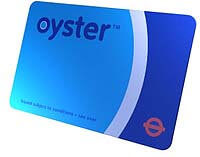 London travel is often slow, crowded and awfully hot. It can also be extremely pricey. Here's how to save some of that travel budget.
Often it seems that the pricing is designed specifically to punish the London tourist: £4 for a single Tube (underground) ticket compared to £2.40 for an Oyster pre-pay ticket. Or £2.20 for a single bus ticket (non-transferrable) bought with cash compared to £1.30 on Oyster pre-pay.
If you're a casual London visitor, it's not likely you know about this pricing and end up paying the maximum fares.
Do the following to get the best pricing from Transport for London (TFL):
Research your ticket options on the TFL Tickets and Oyster fare page
If you visit from outside the UK, get your tickets in advance from the TFL Visitors page
Pay your £5 and get your Oyster card. The £5 for the card is refundable on its return, but you'll also need to add pre-paid 'credit' to travel
Get more information about London public transport modes
If you're overcharged for any reason, make sure to fill in the Customer Charter refund form as soon as you can. This also goes for delays of more than 15 minutes
Public transport in London is never cheap, but you can cut down the cost.
Advertisements:



If all else fails, download a practical map of walking times between Tube stations and hoof it!
You should follow me on twitter here.