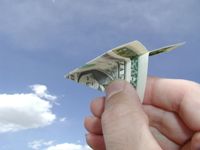 Never a company to shy away from gouging their customers, Ryanair breaks new ground by charging passengers to check in at the airport!
Another £4 added to each flight then...
Ryanair is to start charging passengers to check in at the airport next month.
Customers will be charged £4 per return flight to check in at airport desks from September 20. If you chose to fly with just hand luggage you will be able to check in at Ryanair's website for no extra cost. Naturally, Ryanair claims the charge is being introduced to cut down on queues at the airport and to lighten plane loads.
Advertisements:



A spokesman for Ryanair said: "The idea is not to make more money from this. We want passengers to use our web check-in facility in far greater numbers and check-in fewer bags. The fees are entirely avoidable. Ryanair's web check in and priority boarding service has proven very popular among passengers by freeing them from check-in queues and departure gate queues."
It's a new low
Quite a few airlines charge for carrying checked baggage, but this is the first time, anywhere in the world, that passengers will pay a fee just to check in.
It really is a new low, as Ryanair's policies are consistently targeted against the normal holiday traveler.
After all, when was the last time you traveled without a suitcase?
You should follow me on twitter here.