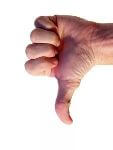 Time Out joins in with an article outing the horrible service us Londoners, and London visitors, often have to endure.
Horrible service is everywhere
Advertisements:



Time Out writes about London's worst service exposed as a counterpoint to their weekly magazine highlighting the best London has to offer. They cover bad food, inaccessible venues, rude staff, and rip-off pricing. Read up on what to avoid and before you go to a restaurant, make sure to avoid these restaurant rip-off tricks too.
You should follow me on twitter here.